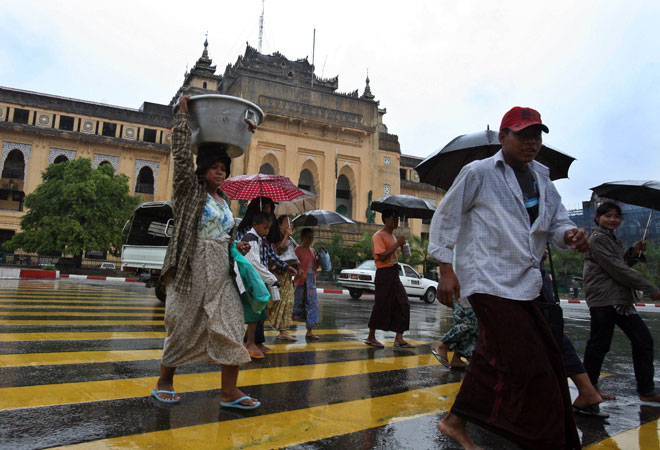 The Union parliament has been urged to reject or extensively revise four controversial laws involving religion and women, in a joint statement issued by human rights watchdog Amnesty International and the International Commission of Jurists on March 3.
The proposed laws "would entrench already widespread discrimination and risk fuelling further violence against religious minorities," the joint statement said.
It said two of the four draft laws – the Religious Conversion Bill and the Buddhist Women's Special Marriage Bill – were inherently flawed and should be rejected completely.
The remaining two – the Monogamy Bill and the Population Control Healthcare Bill – needed serious revision and the inclusion of adequate safeguards against all forms of discrimination before being considered, let alone adopted, the statement said.
"Myanmar's parliament must reject these grossly discriminatory laws which should never have been tabled in the first place," said Richard Bennett, Amnesty International's Asia-Pacific director.
"They play into harmful stereotypes about women and minorities, in particular Muslims, which are often propagated by extremist nationalist groups," Mr Bennett said.
"If these drafts become law, they would not only give the state free rein to further discriminate against women and minorities, but could also ignite further ethnic violence," he said.
The statement said the tabling of the draft laws in parliamenthad come during a time of a disturbing rise in ethnic and religious tensionsand in a nation where women experienced systematic discrimination.
"In this context, where minority groups – and in particular the Rohingya – face severe discrimination in law, policy and practice, the draft laws could be interpreted to target women and specific communities identified on a discriminatory basis," it said.
"The passage of these laws would not only jeopardise the ability of ethnic and religious minorities in Myanmar to exercise their rights, it could be interpreted as signalling government acquiescence, or even assent, to discriminatory actions," said Sam Zarifi, the ICJ's Asia director.
"The introduction of these discriminatory bills is distracting from the many serious political and economic issues facing Myanmar today," MrZarifi said.
The statement said the bills do not accord with international human rights law and standards, including Myanmar's legal obligations as a state party to the UN Convention on the Elimination of all Forms of Discrimination against Women and the UN Convention on the Rights of the Child.
A legal analysis of the four laws by Amnesty International and the ICJ is available at: https://www.amnesty.org/en/documents/asa16/1107/2015/en/