In the face of accelerating interest in the Spanish language and culture in Myanmar, the first Spanish Film Festival Yangon has been organized by the Embassy of Spain from 5 to 7 July at the German Goethe-Institut Myanmar. It features five Spanish films with English subtitles, which record some significant points of European history.
On Friday night, the festival commenced with the opening and the screening of the 2010 romantic film "Chico & Rita". Throughout the weekend, four movies will be screened from 3 p.m. to 8 p.m. respectively. A political film released in 1999 "La lengua de las mariposas" and another movie, which demonstrates the malevolent side of the adult world, "Pa negre" were screened on Saturday. The last day will end with two films entitled "7 Virgenes" and "Bienvenido Mister Marshall".
"The highlight of this festival is to let Burmese people understand more about Spain known to the Burmese people since there are lack of knowledge between two countries now," the Spanish Ambassador to Myanmar, Mr Emilio de Miguel Calabia, said during the opening. "International relationship is about getting people close to each other. With the Spanish films, they can know more about Spain and how we live in Spain. Starting from a low level, we would like to raise the awareness and knowledge between the two countries."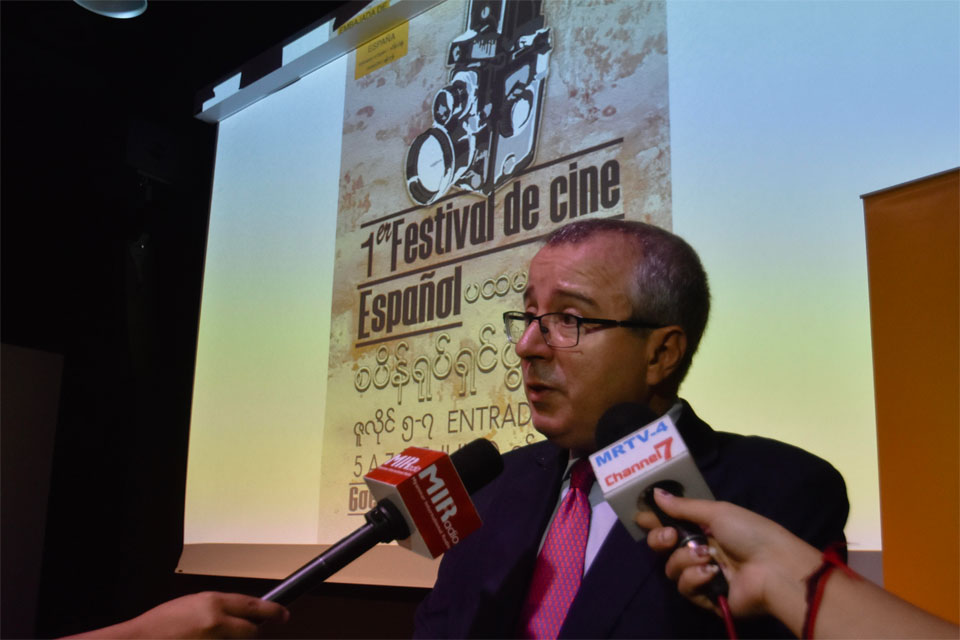 Spanish is the second most-spoken language in the world. Yet, the Spanish language is not ubiquitous in Myanmar as there are not enough courses provided in university and different education centres, along with insufficient Spanish instructors. 
"Many people keep asking for information. In recent years, the Embassy sent the first Spanish lecturer to the University of Yangon. The department of Spanish has been established as well," he added. 
Apart from the assistance from the Embassy, there are private initiatives spreading Spanish learning in Myanmar. Some international schools have started to teach Spanish.
Talking about the Spanish presence in Myanmar film market, he emphasized the difficulty of having no subtitles in movies. The film festival is a valuable experience and starting point for Spanish enthusiasts in Myanmar to start their learning journey.
"This is the first-ever film festival we have organized in Yangon, but it's our orientation not to be the last one," the ambassador added.