During the book launch event, Lisa Brooten and Gayathry Venkiteswaran, co-editors of a book "Myanmar Media in Transition: Legacies, Challenges, and Change," took a few moments out to speak to Mizzima about the book, journalism and free expression in Myanmar.  
This book came about because the editors wanted to lay out a map for the studying of media and culture of Myanmar. Brooten, who has been writing about the Myanmar media for two decades, found that there were books to cover the current transition in Myanmar journalism, but they were not always written with a full understanding of its context.
"We saw many people writing about the country as though everything happened in 2010. There's no history of journalism, no history of civil society movements. So many newcomers are coming in without the background knowledge. They need some books that collect information, providing not only the history foundation but how the history influences today's transition in journalism," Brooten says.
The editors spent much time collecting Burmese voices for the book. There are a dozen local contributors who are working on the ground such as academics, journalists, media development experts, civil society activists, and trainers, and they shared their experiences and knowledge in this volume.
"We found it was really important to include different voices and experiences of Burmese to document Myanmar media. It was great to get them involved in this project, and we are so proud of them," says Venkiteswaran, another co-editor.
In the process of assembling the book, they faced many challenges. A significant limitation was that it was hard to get academic analysis of Myanmar media.
"There are few media scholars focused on Myanmar. During military rule, very few scholars were permitted to come in and write about the media sector in the country. As a result, the academic literature on the subject is sparse, even in print media," Brooten says.
Venkiteswaran also points out that restrictive laws on free expression were another challenge they encountered.
"People can express more than the past, but it does not mean everyone is able to speak openly with having a sense of security. Actually, some interviewees were reluctant to share information on the record out of a fear of reprisals."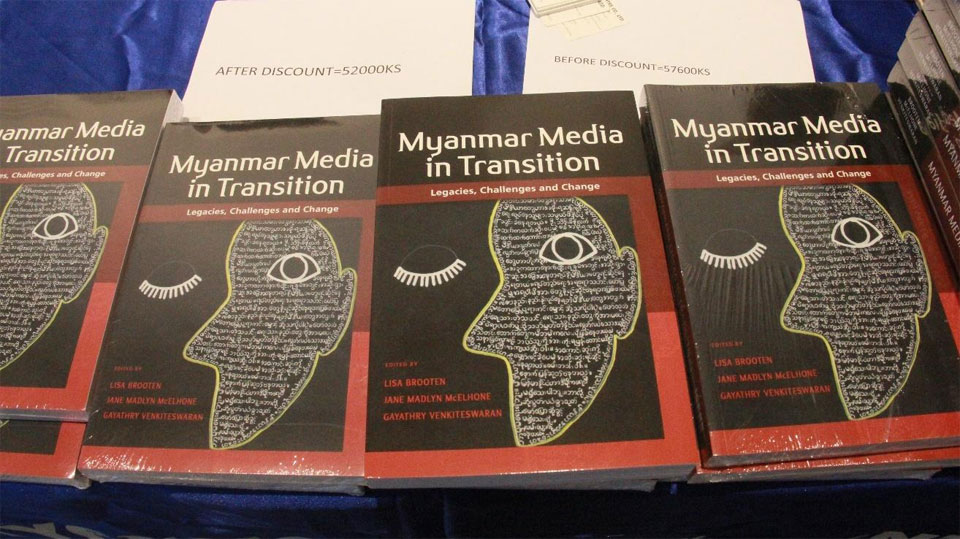 This book consists of various chapters. It ranges from legal reforms for media and expression to Myanmar's pop music industry in transition. The editors believe all these factors are interconnected, and that each chapter can help readers make sense of the other content with a holistic view.
"It's not just about being able to speak freely but also about the independence of court systems or the other branches of government. It's all connected in the context, and we try to connect those kinds of issues in this book. We can say that a change in culture can make people more open," Brooten says.
Venkiteswaran says outsiders like them need a further step to understand this country better. They saw many foreign agencies bringing in the experts from the United States and Europe, and they have made a mistake caused by a piecemeal approach to dealing with local issues.
Brooten hopes their book can be read by a variety of groups to spark conversations between academics, policymakers, and media practitioners for better journalism in Myanmar.
"I think we should not prescribe what should happen here. The solutions need to come from the Burmese. I think journalists and media people of Myanmar will know what has to happen. We have to listen to them."
"This book is an attempt to overview the landscape of media and the country from academic and practitioners' perspectives to start an important conversation between different groups," Brooten says.
Venkiteswaran summed up the book as follows: "Getting to know the challenges and the opportunities faced by the wider media community, especially during the transition. It's not like from start to end, but it's an important moment, and can provide communication and discussions."
Local contributor Eaint Thiri Thu said she provided input and created the image on the book's cover is entitled "Twilight," which means a time of transition to the light or the dark.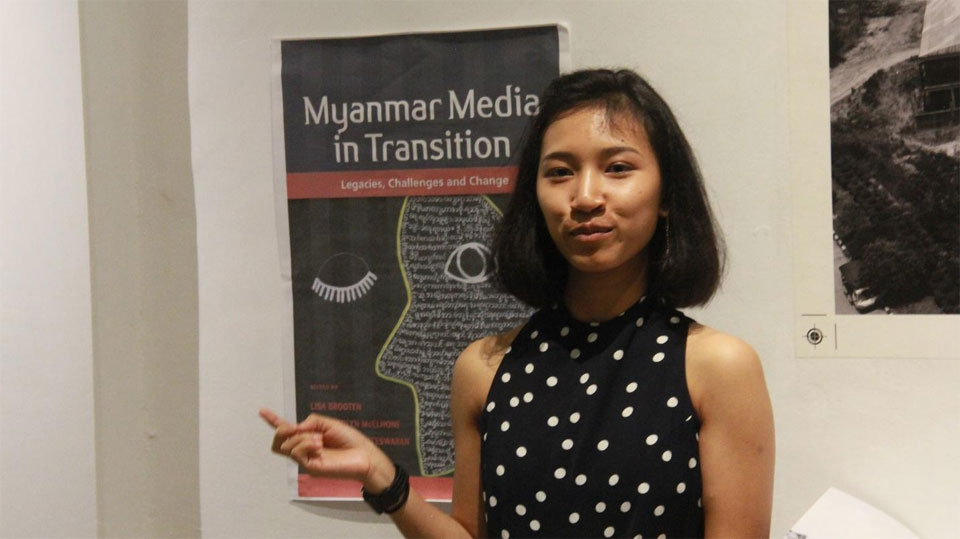 Eaint Thiri Thu
Eaint Thiri Thu explained how she got involved in the book.
"It was 2016 when I was working on research in Rakhine state. I was applying for my graduate school, and I had to write writing samples. I have been working with Jane, one of the co-editors of the book. She helped me edit my writing sample. And after weeks, she liked my chapter and asked me if I wanted to insert my chapter into a book. That's how I got involved in this project."
She expressed concern about the state of journalism in Myanmar.
"Almost every week, I saw at least one friend got arrested for some performances on my social media. Even in my society, freedom of expression is not going well. At the national level, there are more and more people got arrested for like defamation. As I said in the cover image of the book, I don't know whether the current transition takes us to the lighting of hope or the darkness. I am concerned that the situation will get worse."
Eaint Thiri Thu expressed the importance of freedom of expression. "I was born in the 90s. I have gone through a kind of censorship time. So while growing up, I was annoyed about what was going on in other parts of my country. We have not had much information about what's going on in our country. Without knowing much about it, there are a lot of tensions and misunderstanding from different backgrounds, religion, and cultures. I think it causes many problems happening in Myanmar now. Freedom of expression is very important because it's the right of human beings. To uphold this free expression. I will keep speaking out what I think and what I feel."