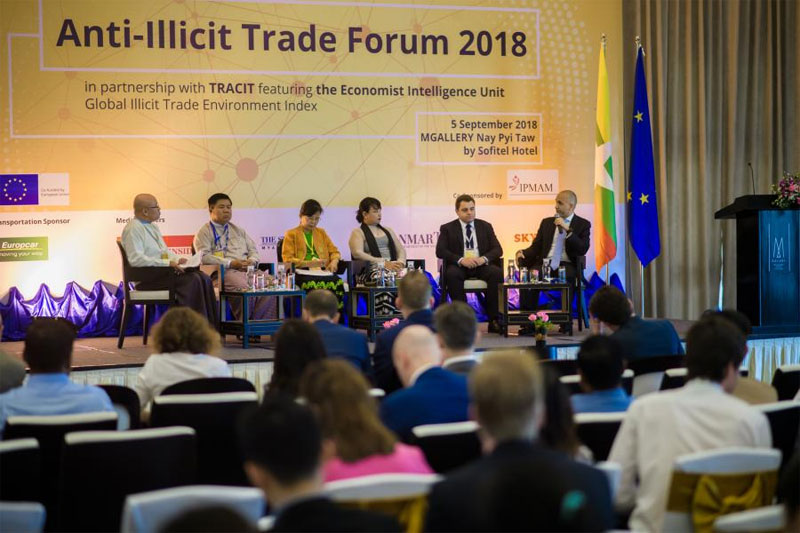 EuroCham Anti-illicit Trade Forum 2018 was held at M Gallery Hotel in Nay Pyi Taw on 5 September.
The event, being first of its kind in Myanmar, was opened by the Chairman Aung Kyi of the Anti-Corruption Commission of Myanmar. It was attended by private companies from Europe and Myanmar, Bill Committees of the Upper and Lower Houses, Regional Ministers of Planning and Finance from Shan State, Kayin State and Tanintharyi Region, and senior officials from Ministry of Home Affairs, Ministry of Border Affairs, Ministry of Planning and Finance, Ministry of Commerce, Ministry of Education and Ministry of Health and Sports.
In 2018, a Global Illicit Trade Environment Index has been commissioned to the Economist Intelligence Unit by the Transnational Alliance to Combat Illicit Trade (TRACIT), with the objectives of improving the knowledge and understanding of the regulatory environment and economic circumstances that enable illicit trade and provide recommendations on priority areas. Myanmar is one of 84 countries featured in the Index, ranking only 82nd among all these countries in terms of government capacity in handling illicit trade.
The objective of the Forum was to present the Index findings as well as concerns of the EuroCham Anti-illicit Advocacy Group and industry representatives, to relevant stakeholders and media.
The panels were joined by leading private sector representatives, government officials, key experts from international organizations and academics, including TRACIT General director and UNODC's Deputy Country Manager and Anti-corruption adviser. An overview of the Index results, as well as in depth analysis and recommendations on specific issues were presented by the different expert panels. Government panelists were from Customs Department, Internal Revenue Department, Department of Trade, Department of Consumer Affairs, and Food and Drug Administration Department.
All the panelists share the view that public awareness promotion is critical for combating illicit trade. Illicit trade is not only an issue of Myanmar but a global issue which is negatively affecting all the countries. Therefore, it is clearly a problem which requires a global effort with a global network of anti-illicit trade task forces. The role of the ASEAN as a combined force to tackle the illicit force is important, and Myanmar can learn a lot from neighboring countries that could have successfully dealt with smuggling and other illicit trade patterns. It was also highlighted that successful handling of illicit goods first and foremost requires strengthened cooperation of all the relevant departments and law enforcement agencies, i.e. courts and prosecutors. The panelists strongly suggest enhanced information-sharing and cooperation among law enforcing officials at the regional level. To involve all the related officials and private sector in the anti-illicit trade efforts and strengthen cooperative measures, the panelists also call for the government actions to create and develop working environments where all the stakeholders with different expertise can participate.