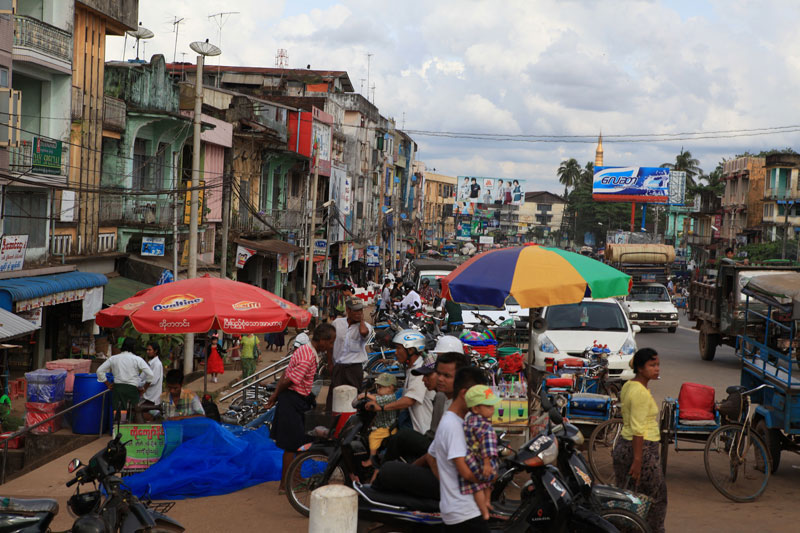 Local government in southern Myanmar's Bago Region has renewed calls for development, mentioning Chinese and South Korean investors pushing for increased access to industrial zones.
"No land has been set aside for the industrial zones in Bago Region, but the government has defined industrial areas," Bago Region minister for planning and finance Nyunt Shwe said, according to an article published May 19 in Global New Light of Myanmar.
The article goes on to state that, "The region government is scrutinising the contracted land, which has been granted to implement the project in the industrial areas."
While the chronology of these seemingly contradictory statements has not been made clear, recent reports of domestic and international investors pushing into the Bago Region include Kaytumadi Development Public Co., founded by current CB Bank Chairman Khin Maung Aye.
According to Eleven Myanmar, in 2013, Kaytumadi applied for a 4,800-acre "international-level industrial park" that would take five years to complete. In March 2016 they were granted "permitted enterprise" status by Myanmar's Directorate of Investment and Company Administration for industrial development on more than 1,500 acres.
Another potential investor is Lee & Man Paper Manufacturing Limited, a Hong Kong-listed Chinese company that recently requested permission to utilize more than 800 acres for a paper production plant. According to Xinhua, the company pledged to send 3,000 local residents of Bago to China for a one-year training programme as part of the investment.
Additionally, it is unclear what has become of requests made in 2016 by the Korean Industrial Complex Company for implementation of an 8,000-acre industrial zone in Bago Region, as reported by the Ministry of Information at the time.
Ko Marky, political consultant with Myanmar Farmer Union, told Mizzima that if proper processes are followed for negotiations between developers and landowners – and the latter are realistic about market value for areas that are currently farmland – the Bago Region may be able to ensure long-term growth.
"More industrial manufacturing enterprises can help address the problem of unemployed young people in the region," Ko Marky said.
When asked about details of future industrial zone developments, recently sacked Bago Region minister Kyaw Min San told Mizzima that he was unaware of any specifics.
According to Global New Light of Myanmar, current Bago Region minister Nyunt Shwe said, "If industrial zones are developed, our region will also develop, and it can create job opportunities for the local people."
The same article also stated that, "The Bago Region does not face scarcity of land to implement industrial zones."