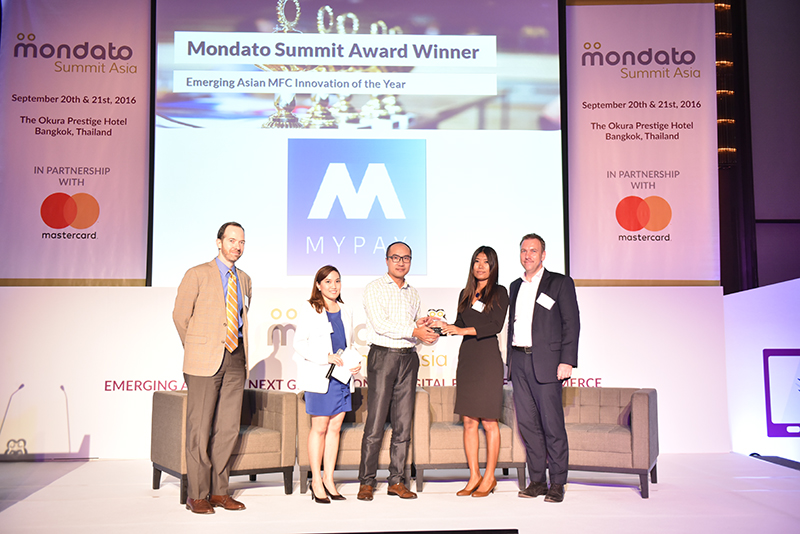 Last month over 100 participants attended the Mondato Summit Asia to share their knowledge about digital finance in Asia.
Myanmar was represented on the conference by Yoma Bank, true money and wave money. Nowhere in Asia is the change towards an innovative digital economy happening so quickly as in Myanmar. The country has the potential to become the motor of digital commerce and financial technology in South East Asia.
The event took place from September 20-21.
Fiona (Khin Nyein Thu), General Manager of MYPAY said "FinTech (financial technology) is the only solution so that everyone can use mobile financial services conveniently in a short time. Bank branches cannot be in every street, but mobile phones can be in everyone's hand."
The judges gave the financial innovation award to MYPAY because of the technology used and due to MYPAY's business model. The European technology is provided by Cellum, a successful mobile wallet and online banking provider. The business model works like a multi-platform where all other digital financial service providers can be integrated. 
"Cash will not go away," the CEO of MYPAY, Tim Scheffmann explained, "There will always be a kind of physical cash in our pocket. Cash, bank cards, ATMs, mobile money and bank branches need to work together. Only then the customer will have trust to use mobile money and mobile commerce."
MYPAY is currently discussing with the Central bank how MYPAY can help the financial sector. The cooperation with MySQUAR (a social media and gaming platform) allows MYPAY to start with three million customers and scale its business model up to 20 million millennials in Myanmar. All in all, MYPAY is working on mobile commerce and financial inclusion for the bright digital future of Myanmar.
(Advertorial)