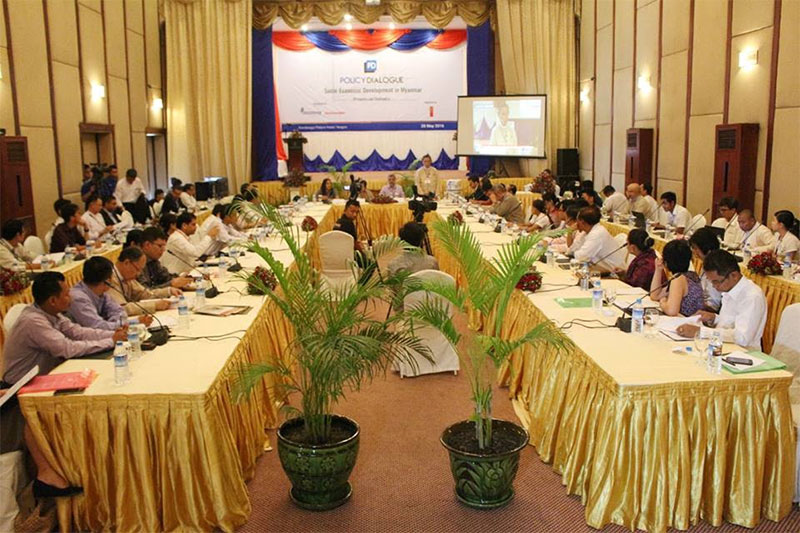 At the recently concluded policy dialogue on Socio-Economic Development in Myanmar on 28th May, 2016, jointly conducted by Mizzima and ActionAid Myanmar, speakers urged the importance of dialogue and deliberation as a way out to find solutions for peace, stability, and economic development.
Myanmar's' tryst with democracy and inclusive development at the turn of 2015 has created all round enthusiasm and expectations run high vis-a-vis the anchorage or the trajectory of development policy. Would it be a decisive departure towards a welfare and people-centric development policy or would it be continuity with an enhanced democratic quotient? This question bothered not only the international development community but also academia and intellectuals within the country. Which way to go? Would it be the 'South Korea' model of developmental State or neo-liberal, market, and export-led development? Would it be a model of Singapore, a very directive policy thrust? Are there too many questions to answer? A beginning has been made to address some of these.
Espousing all round development of Myanmar society, chief Patron of NLD U Tin Oo appealed to all stakeholders to deliberate and hold a dialogue for strengthening the democratic process. This policy dialogue provided a platform for scholars, academia, civil society, political leaders and development practitioners to discuss, and interact on issues of socio-economic challenges in Myanmar. U Tin Oo highlighted critical sectors that form the priority of the government including poverty alleviation and rural development, infrastructural development, decentralization, and youth and women's development. Expressing a sense of optimism and solidarity, sitting Member of Parliament Daw Shwe Shwe Sein Lett highlighted the importance of civil society organisations in supporting the government initiatives.
The policy dialogue discussed three critical areas for socio-economic development, viz., Macroeconomic framework, Poverty reduction and Rural Development and Decentralisation. Key speakers and discussants brought out the need for a comprehensive policy framework that works over long and medium terms in Myanmar's path to development and stability.  A comprehensive policy framework on the devolution of powers to local government structures (below the union level) and reforms in administrative apparatus were also identified as key to reaching out to people and establishing the rule of law and accountable governance.
Noted economist and development planner, U ZawPe Win opened the discussion on a Macroeconomic framework and stressed the need for a self-reliant economic growth path and development that strengthens the domestic sectors (agriculture and manufacturing) and do not rely solely on export-oriented sectors. Stressing the need for caring for the environment he called for a comprehensive economic and development policy framework which articulates priorities that line ministries can follow. Currently, that is absent which has created an impression that it is business as usual. He pointed out infrastructure development and rural development as key drivers for growth and development. Similarly, the need for an increase in productivity, skill development (and harnessing the benefit of high literacy and youth population) are critical for meeting the challenges that emanate from the process of regional integration (AEC), which is going to be a reality in the coming years. Panellists pointed out the need for pro-active intervention to promote small and medium enterprises that generate large employment and enhance local demand. Identifying the need for facilitation of credit, skills, technology and markets, it was pointed out that Myanmar's strength in agro-based and rural oriented production should be given thrust in order to address employment challenges. Protecting employment and enhancing the productivity of workers was also emphasised.
A balance between market-oriented economic policy and welfare and poverty-focused measures is another point stressed by the speakers. For the private sector, peace, stability, and security are critical and a level playing field is needed in order to ensure private capital (domestic and foreign) to feel secure and expand its investments. The emphasis from the private sector has been to create investor confidence through policy measures that are clear, simple and easily implementable. Given the diverse resource base across states/regions, an approach towards an inclusive and equitable growth model is necessary for Myanmar in order to ensure all regions benefit from development interventions. Sharing of resources equitably and rational allocation of revenues across different states/regions for development have to be seen from the perspective of inclusive and equitable development.  Some of the resource-rich regions/states have a high incidence of poverty which need to be addressed. This would require a perspective on federalism and decentralisation which was also discussed at the Policy dialogue. Pointing out the trade-off between environment and development, an appeal was made to protect the fragile eco system of coastal regions which are subjected to unregulated fishing and marine activities as well as depletion of mangroves and other natural resources.
While identifying public sector reform as a priority, the role of the government as 'regulator' of economic activities has also been reiterated by some speakers. Daw Khin Ma MaMyo pointed out the urgent need for prioritizing poverty alleviation and giving it the same level of importance as that given to national security or national defence. She argued that currently Myanmar continued to use external poverty lines as it didn't have its own and encouraged progress in that direction. Growing inequality and urban-rural disparity is also of growing concern according to her. Discussants argued that while poverty was a plague on society, it too had an unequal impact on communities including people with disabilities. The panel came to the conclusion that a national vision for poverty reduction is the need of the hour.
Discussing the issues of decentralisation and promotion of local governance, scholars pointed out the need for a comprehensive policy, a national vision and political consensus as it is closely linked to inclusive, accountable and equitable governance. 
Identifying present constitutional provisions as one of the limiting factors, U Aung Thu Nyein, a noted scholar on decentralisation pointed out that people's expectations are to have a government which is closer to them and meet their aspirations. Given the NLDs priority of federalism and accountability, several steps can be taken within the current system through presidential decrees or through executive orders.  Strengthening people's participation at village tract and township levels can be undertaken through reforming the current arrangements. Acknowledging political devolution to the state/regions in terms of creation of local parliaments and government system a lot more is expected in the form of devolution of funds and building capacities for undertaking development work by state/regional governments.  It was identified that the monitoring of development projects at the local level is very weak as there are no mechanisms of accountability. Greater devolution of funds to state/regional governments would be one step in this direction. At present 24 departments are being transferred to state/regional governments (and below), however, several modalities need to be addressed in order to ensure their effective functioning.
Identifying that decentralisation is a political decision, discussants of the panel pointed out that decentralisation requires political consensus. Hence, decision making by the local people's representatives is far more important than merely transferring administrative arrangements.