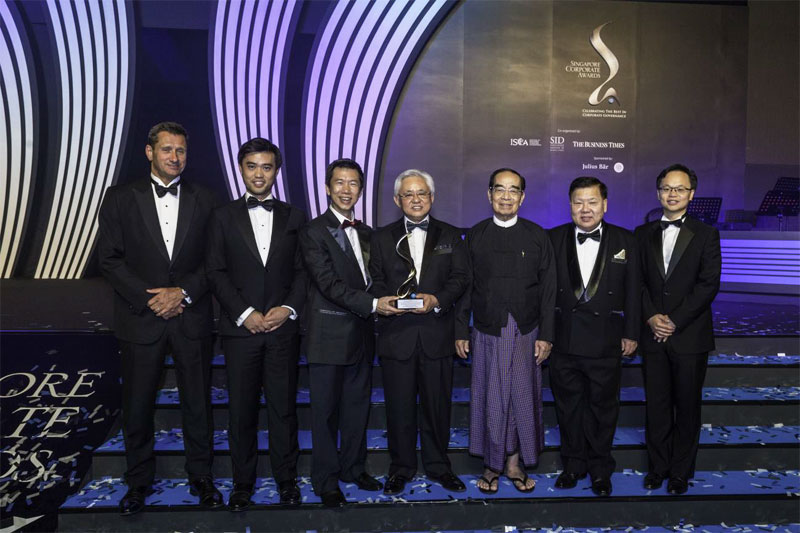 Yoma Strategic Holdings Ltd won Silver for the Best Managed Board Award at the 10th Singapore Corporate Awards ("SCA") gala dinner this week, according to a press release on July 10.
This award is in the category for companies with S$300 million to S$1 billion in market capitalisation.
Mr Serge Pun, Executive Chairman of Yoma Strategic remarked: "We are honoured to receive this prestigious award as it is an acknowledgement of our hard working Board. We have always believed that a well-run Board with good corporate governance practices benefits Yoma Strategic in terms of a stronger standing with the government, and increases stakeholder confidence and trust, all of which are key to sustainable growth, in an emerging market like Myanmar. This award will further encourage us to strive for excellence as we continue to uphold the spirit of good corporate governance and transparency."
The BMBA gives recognition and acknowledgement for the Board with the best overall quality of corporate governance practices among Singapore-listed companies.
The annual SCA represents Singapore's highest accolade in Corporate Governance, and is co-organised by the Institute of Singapore Chartered Accountants, Singapore Institute of Directors and The Business Times, and is supported by the Accounting and Corporate Regulatory Authority and Singapore Exchange.
Listed on the Main Board of the Singapore Securities Exchange Trading Limited (SGX-ST), Yoma Strategic Holdings Ltd. is a leading business corporation with real estate, agriculture, automotive, luxury tourism and retail/F&B businesses in Myanmar. Yoma Strategic is taking a conglomerate approach to build a diversified portfolio of businesses in Myanmar, together with its partner, the SPA Group.