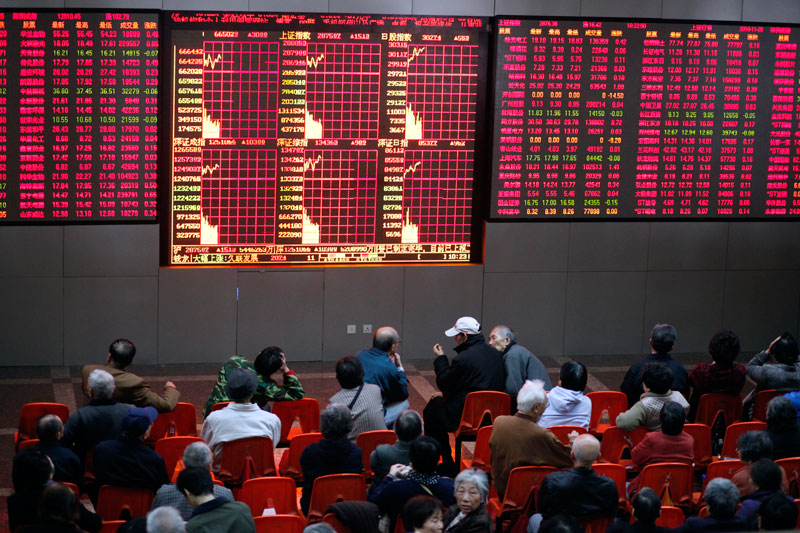 Oil extended the previous day's rally and Asian stocks surged Thursday while the dollar held most of its losses as the turmoil on global markets lowers expectations the US will hike interest rates again this year.
Energy firms, for so long beaten down by the collapse in commodities, led gains as fresh hopes for talks between Russia and OPEC on cutting output lit a fire under crude prices.
The gains are the latest in a volatile cycle that has characterised the start of 2016 as traders fret over the state of the global economy, the slowdown in China's growth and the oil rout.
And those worries are feeding through to the US economy, which has so far been the stand-alone healthy performer in recent months. Data Wednesday showed growth in the country's key services sector -- which accounts for 80 percent of economic activity -- slowed for a third month in January, with weakness across the board.
Earlier this week Federal Reserve Vice Chair Stanley Fischer said the global turmoil had the potential to trip up the US economy and the central bank was closely watching events as it considered monetary policy.
The comments added to speculation the Fed is becoming hesitant to lift rates, following its first hike for more than nine years in December. 
Increasing expectations the Fed will stay put on rates for the rest of the year sent the dollar tumbling Wednesday, in turn sending oil prices rallying and providing a fillip to stocks.
A weaker greenback makes oil cheaper for buyers using stronger currencies, which tends to stimulate demand and prices.
US benchmark West Texas Intermediate surged 8.0 percent and Brent jumped 7.1 percent Wednesday, having respectively slumped 11 percent and almost five percent over the previous two days.
- Energy firms surge –
The crude surge came despite an official report showing US stockpiles soared above 500 million barrels for the first time since 1930, at the start of the Great Depression.
"The selloff in the US dollar is supportive of commodities," Scott Schuberg, chief executive officer at brokerage Rivkin Securities in Sydney, told Bloomberg News.
"We've been trading under conditions that's been fairly gloomy. The outlook for China has been gloomy for years now. I don't really think that there's too much negative sentiment that could be piled on to this market."
On Thursday both contracts were up more than one percent.
Adding to the buying is renewed hope that Russian and OPEC officials will meet to discuss cutting production to address a glut that has driven prices to around 12-year lows.
The pick-up in prices led energy firms on a rally. CNOOC jumped 6.2 percent and PetroChina added 5.3 percent in Hong Kong, while Sydney-listed BHP Billiton added 8.3 percent and Woodside Petroleum gained 5.8 percent. JX Holdings in Tokyo was 2.3 percent up and Inpex was 2.9 percent higher.
And stock markets surged. Hong Kong was up one percent and Shanghai ended 1.5 percent higher.
Sydney closed up 2.1 percent and Seoul was 1.4 percent stronger, while Manila and Jakarta saw sharp runs.
However, Tokyo finished 0.9 percent in the red as exporters were hurt by the yen's rise against the dollar.
In early European trade London jumped 1.5 percent, Frankfurt rose 0.9 percent and Paris gained 1.2 percent.
The greenback tumbled to 117.81 yen Wednesday from 120.01 yen the day before and only pared some losses Thursday in Asia. The euro also jumped to $1.1111 from $1.0917 and held most of those gains Thursday.
- Key figures around 0830 GMT –
Tokyo - Nikkei 225: DOWN 0.9 percent at 17,044.99 (close)
Hong Kong - Hang Seng: UP 1.0 percent at 19,183.09 (close)
Shanghai - Composite: UP 1.5 percent at 2,781.02 (close)
Euro/dollar: DOWN at $1.1100 from $1.1111 on Wednesday
London - FTSE 100: UP 1.5 percent at 5,925.6
Dollar/yen: UP at 117.87 yen from 117.81 yen
New York - Dow: UP 1.1 percent at 16,336.66 (close)
©AFP