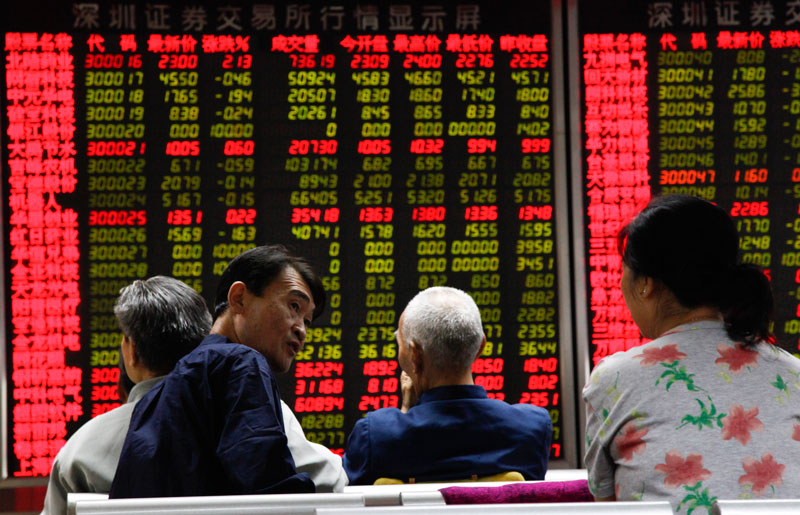 Resources firms led a sell-off in Asian markets Tuesday following painful losses across Europe and New York as fears about the impact of China's slowing growth on the global economy burst back into view.
In a fierce rush to safety the yen and gold rallied and higher risk emerging market currencies took another hit ahead of the release of key US jobs data that could play a big part in the Federal Reserve's decision on when to hike interest rates.
Trading floors around the planet have witnessed extreme volatility since mid-August, when China devalued its yuan currency, fanning fears about the state of the world's number two economy and crucial driver of global growth.
"The slowdown in China is spreading to other Asian economies, Brazil and Australia, and weakness in emerging countries could echo throughout the overall world economy," Toshihiko Matsuno, chief strategist at SMBC Friend Securities, told Bloomberg News.
"We still don't know when market fears will end about China's slowdown, and because of this investors are turning to cash and safe assets."
China has been suffering a painful slowdown in growth for several months and is expected to see its worst performance this year in a quarter of a century.
Last week already weak confidence was rattled by news that a gauge of factory activity in the country came in at its lowest level for six-and-a-half years in September.
The latest panic comes after China said its key industrial companies saw profits fall 8.8 percent in August -- hit by last month's shock devaluation, weak demand and plunging stocks.
The news hammered London-listed mining giant Glencore, which plunged 27.5 percent Tuesday after online brokerage Investec warned about the impact of soft commodity prices on the group as China's struggles hit demand for raw materials.
The firm has lost about three quarters of its value this year as commodity prices -- including copper, iron ore and oil -- sit at multi-year lows.
- Rush to safety - 
On Tuesday resource-reliant firms tumbled. In Sydney BHP Billiton plunged more than six percent and Rio Tinto shed five percent, while Origin Energy and Santos gave up almost seven percent each.
In Tokyo oil firm JX Holdings lost 4.5 percent and Kubota -- which makes tractors and heavy equipment -- fell 5.88 percent. Industrial robot maker Fanuc, which has close links to China, was down 2.38 percent.
The losses dragged all Asia's bourses lower. Tokyo tumbled 3.21 percent, Hong Kong lost 3.42 percent, Sydney shed 2.69 percent and Shanghai was 1.48 percent lower. Singapore, Wellington and Manila were all down more than one percent.
Markets in New York and Europe were equally as sideswiped. The Dow plunged 1.92 percent, the S&P 500 lost 2.57 percent and the Nasdaq tumbled 3.04 percent. Earlier in the day London, Frankfurt and Paris all lost more than two percent.
Bullion, another go-to safe haven, added 0.10 percent to $1,132.72.
Foreign exchange dealers also fled to assets considered safe in times of turmoil. The dollar fell to 119.61 yen from 119.93 yen Monday in New York, while the euro slipped to 134.62 yen against 134.83 yen.
The greenback extended gains on other regional currencies. The South Korean won fell 0.18 percent against the US unit, the Thai baht shed 0.25 percent and Indonesia's rupiah was 0.41 percent lower.
Malaysia's ringgit was almost one percent lower, the Taiwan dollar shed 0.46 percent and the Singapore dollar eased 0.25 percent.
The dollar is earning extra cache as investors prepare for an expected rate hike by the end of the year, with Friday's jobs data in focus. A strong reading will put fresh pressure on the Fed to move, putting pressure on emerging economies as investors withdraw their cash to seek better returns in the US.
Oil prices edged up, however, after losing around 2.5 percent Monday.
US benchmark West Texas Intermediate rose 0.16 percent to $44.50 and Brent was up 0.13 percent at $47.40.
©AFP