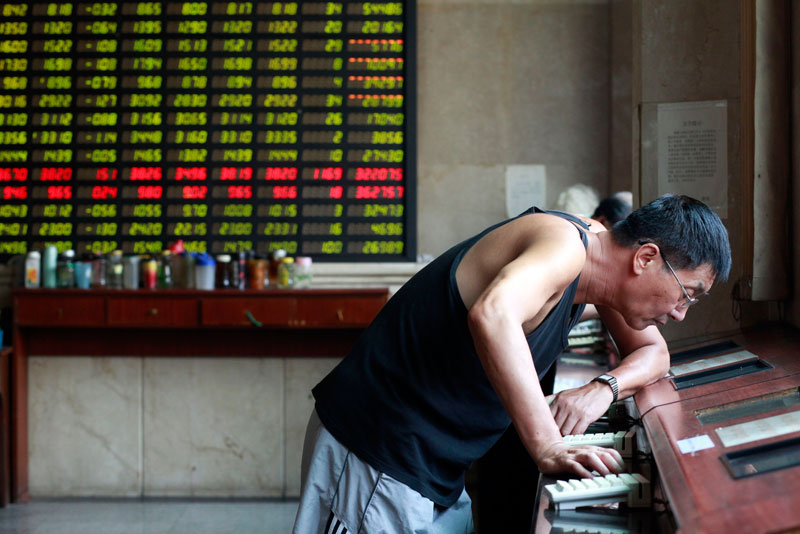 China's economy grew at its weakest pace since the global financial crisis in the third quarter, official data showed Monday, fuelling speculation Beijing will unveil fresh stimulus measures.
While the figures were slightly better than expected, early gains in Asian equities dissipated although emerging market currencies pared losses on growing expectations a US interest rate rise will be put back to next year.
China's National Bureau of Statistics (NBS) said the economy grew 6.9 percent in July-September, the weakest since 2009 at the height of the global recession but better than the 6.8 percent tipped by analysts in an AFP survey.
The result is the first official confirmation of investors' fears over growth in the world's number two economy and follows a string of weak indicators including on trade and manufacturing activity.
The economy is forecast to grow this year at a slower pace than last year's 7.3 percent, which was the worst annual rate in almost a quarter of a century.
An NBS spokesman described the decline as a "slight slowdown" but said the economy was still running within a "proper range". Beijing has set a target of "around seven percent" for growth this year.
As the world's biggest trader in goods and a giant market in itself, China is a key driver of the global economy, and stock exchanges around the world have been pummelled in July-September by concerns over its future.
Global indices were sent into freefall in August -- wiping trillions of dollars off valuations -- when Beijing announced a shock devaluation of its yuan currency, which fuelled fears about the economy and leaders' grip on the crisis.
However, investors took some positives from Monday's report, hoping the government will further loosen monetary policy after five interest rate cuts since November.
- 'Still sluggish' - 
ANZ Banking Group chief economist for Greater China Liu Ligang told AFP: "China's economic growth is still sluggish with many risks remaining unresolved. We should not be over-optimistic. China's economic growth will continue to slow down." Liu estimated GDP would expand 6.4 percent next year.
Shanghai rose almost one percent straight after the data release on hopes for fresh stimulus but eventually ended the day 0.14 percent lower. Sydney, where several firms with close links to China are listed, closed flat, as did Seoul.
Tokyo finished 0.88 percent off, with profit-takers also weighing on prices after a recent rally, while a stronger yen hit exporters. However, Hong Kong reversed early losses to eke out a minor gain as dealers bet on fresh stimulus.
"We expect the government to continue to take additional incremental measures to ensure that growth does not deviate too much from its targets, but without going for major stimulus," Louis Kuijs, head of Asia economics at Oxford Economics, said in a research note.
Higher-yielding, riskier currencies improved after a sluggish start. The South Korean won was up 0.73 percent, Australia's dollar was 0.55 percent higher, the Indonesian rupiah added 0.21 percent and India's rupee edged up 0.04 percent.
World equities have seen healthy gains this month after suffering their worst quarter in four years during July-September, with dealers buoyed by expectations the Federal Reserve will delay an interest rate hike until next year.
After saying in early 2015 that a rise was expected as the US economy picked up pace, bank policymakers have gradually lowered their expectations, with turmoil unleashed by China's yuan depreciation in August playing a major role.
A recent run of weak data out of Washington -- including below par jobs growth and retail sales -- have also muddied the Fed's waters.
©AFP