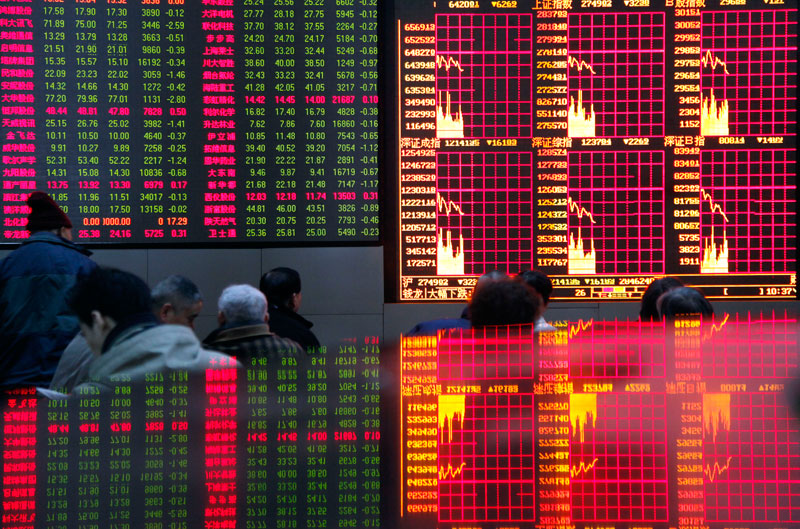 Chinese stocks plunged on Tuesday morning, defying a renewed government vow of support, a day after the Shanghai market lost more than eight percent in its sharpest fall for eight years.
The losses came despite an unprecedented effort by the government of the world's second largest economy to shore up prices following a weeks-long rout.
The turmoil came after a boom encouraged by the authorities and their willingness to intervene has raised questions over their economic management.
At 10:20 am (0220 GMT), the Shanghai Composite Index was down 3.31 percent, or 123.40 points, at 3,602.16. It fell as much as 5.0 percent during the morning.
The Shenzhen Composite Index, which tracks stocks on China's second exchange, slumped 4.38 percent, or 94.63 points, to 2,065.46.
Monday's 8.48 percent fall in Shanghai was the biggest drop since February 27, 2007. 
Many of China's legions of small investors are heading for the exits.
"I sold 90 percent of my stocks since I saw several reports saying that the market is due for a correction," said Ling Lihui, a manager at a market research company, who sold up last week.
After Monday's collapse in share prices, the China Securities Regulatory Commission (CSRC) said it would continue to "stabilise" the market. 
The state-backed China Securities Finance Corp., tasked with supporting the market, would continue to increase its share holdings, the CSRC said in a statement.
"It's a normal correction of the market since it rose too much before," Zhang Yanbing, an analyst at Zheshang Securities, told AFP.
He added it would take some time for trading to become less volatile. 
"In the future, the market will gradually rise and stabilise and finally return to a normal state," he said.
The government intervened after the market plunged 30 percent in just three weeks from mid-June, having risen more than 150 percent in the previous 12 months.
Early efforts failed to change sentiment, until the government banned shareholders with more than five percent stakes from selling stock and launched a police crackdown on short-selling.
The market rallied for six sessions until Friday, when an independent survey of manufacturing activity hit a 15-month low in July.
Some analysts believe the market rout has yet to become a crisis in the banking system, but warn it could have an impact on economic growth.
"The stock market will continue to be very volatile despite the high-profile rescue package launched by the government in the past few weeks," ANZ said in a research report on Monday.
"However, we do not regard price movement in the equity market (as) a financial crisis," it said. "The equity market rout provides room for the PBoC (People's Bank of China) to ease monetary policy."
© AFP