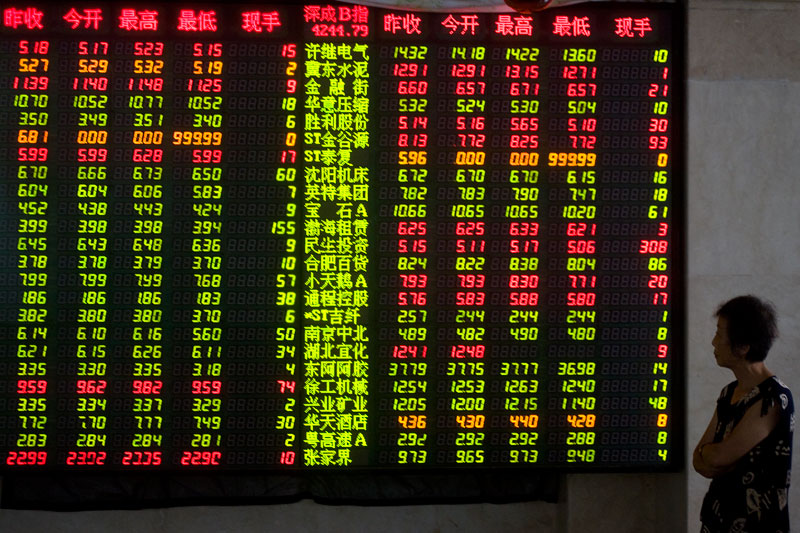 Chinese stocks stormed into positive territory in volatile trade Thursday as Beijing launched new measures to halt a dramatic sell-off, with Asian markets also rebounding.
The main Shanghai index had fallen more than 30 percent since a spectacular bull run peaked on June 12, driven lower by restrictions on margin trading, concerns about overvaluations and "panic" selling by the retail investors that make up the vast majority of the market.
The Shanghai Composite Index surged 5.76 percent, or 202.14 points, to 3,709.33 on turnover of 673.3 billion yuan ($110.1 billion). It fell as much as 3.81 percent and rose up to 6.88 percent during the day, representing a swing of more than 10 percent.
The Shenzhen Composite Index, which tracks stocks on China's second exchange, ended up 3.76 percent, or 70.90 points, to 1,955.35 on turnover of 277.6 billion yuan.
"Investor confidence is recovering," Zhang Gang, an analyst from Central China Securities, told AFP.
"Government support policies have shifted from saving the blue-chips and large cap stocks to focusing on growth stocks and smaller shares, which boosted trading volume and liquidity," he said.
The gains came after China moved to stop major shareholders from selling shares and launched a probe into short-selling in a bid to calm markets.
Asian markets rose Thursday, reversing heavy morning losses and tracking the surge in Shanghai.
Hong Kong was up four percent in late trade after the market recorded its biggest single-day loss for more than six years on Wednesday.
Tokyo recovered from losses of more than three percent to end 0.60 percent higher.
But US shares retreated overnight on worries about how the stock market rout could affect the Chinese economy -- the world's second-largest and a key driver of global growth -- and worries of a messy Greek exit from the eurozone. The Dow Jones Industrial Average finished down 1.47 percent.
Late Wednesday, China's market regulator barred major shareholders and executives of listed companies from selling their stocks for the next six months in order to "maintain stability", the latest government action to stem the slide in equities.
The ban applies to "big" shareholders -- defined as those with stakes of more than five percent -- company directors, board supervisors and senior executives, the China Securities Regulatory Commission said. 
Police and security regulators then launched a joint probe Thursday into "vicious short-selling" on the country's stock markets, the official Xinhua news agency reported. Short-selling is the selling of stock that is not actually held, in anticipation of a future fall in prices.
More than 1,400 companies have also been suspended from trading on China's share markets as of Thursday, representing around 50 percent of listed stocks, according to Bloomberg. The move temporarily averts further falls in their prices, but seizes up the markets. 
- 'Whatever it takes' - 
The rout in mainland shares has also spread into some commodities, as China is a massive consumer of resources such as iron ore.
Prices for iron ore -- the raw ingredient for steel of which China is the largest buyer -- plunged to at least a six-year low early Thursday, with mining companies in resource-driven countries such as Australia and Brazil bearing the brunt.
The spot price of the commodity had taken its biggest one-day hit ever overnight, falling 10 percent to $44.59 a tonne.
"The risk from Chinese equities markets is clearly impacting commodities markets," IG Markets strategist Evan Lucas said in a research note. 
Among the latest intervention measures, the central People's Bank of China said on Thursday that it was providing liquidity to the state-backed China Securities Finance Corp. (CSF) to help stabilise the market, reaffirming an earlier pledge.
In a separate announcement, the stock regulator said CSF will provide liquidity for investors to buy so-called "public funds" -- similar to a mutual fund.
Other recent moves include allowing insurance companies to invest more assets in stocks and a programme to buy the shares of smaller companies.
The country's 111 major state-owned enterprises were barred from selling shares in their listed subsidiaries by the state-owned Assets Supervision and Administration Commission, which oversees them.
"The Chinese government is having a 'whatever it takes' moment with the stock market," SocieteGenerale said in a research report.  
"The impact on the market remains muted and so more resources will probably be ramped up for the battle in the coming days."
© AFP