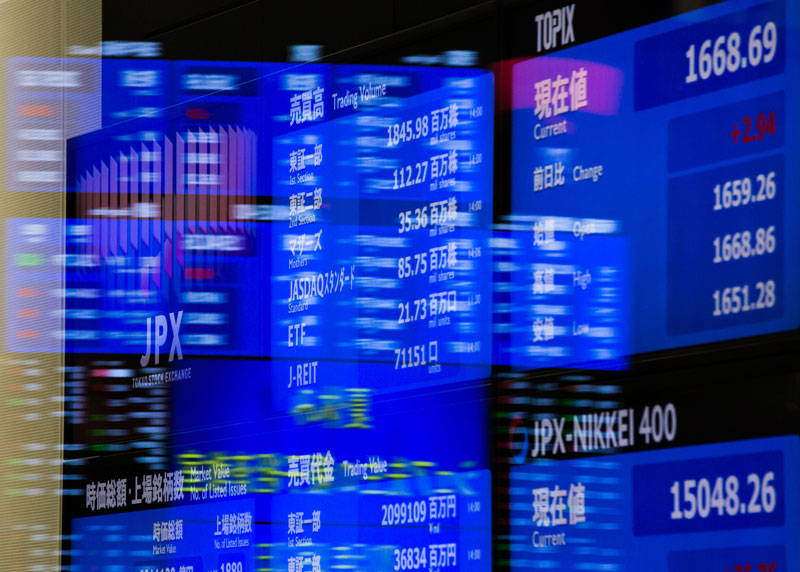 The pound collapsed to a 31-year low and currency, equity and oil markets went into freefall Friday as projections showed Britain has voted to leave the European Union.
Sterling crashed more than nine percent to $1.3305, its weakest level since 1985, while the greenback itself slumped below 100 yen for the first time in two-and-a-half years as traders fled to safety.
In the weeks leading up to Thursday's historic vote, there had been widespread warnings that a vote to leave would cause another rout across global markets that would wipe trillions off valuations, just months after a painful China-fuelled sell-off.
And as results came in, the doomsday scenario began to unfold as the BBC and other broadcasters called a win for "leave".
The pound had earlier topped $1.50 following predictions the "remain" group would win but as the Brexit camp posted victories around the country, traders stampeded to put in sell orders. 
The dollar slumped briefly to 99.02 yen, the first time it has gone below 100 yen since November 2013, before edging back up slightly. The Japanese unit is considered a safe bet in times of uncertainty and turmoil. 
Japan's Finance Minister Taro Aso will hold an emergency news briefing Friday. He has previously said Japan would closely watch the dollar-yen rate and act accordingly if the yen became too strong, indicating the government could intervene in currency markets.
A flight to safety also saw higher-yielding and emerging market currencies slump, with the Australian dollar down 3.2 percent, South Korea's won diving 2.4 percent, Malaysia's ringgit down 2.3 percent and the Indonesian rupiah shedding 1.7 percent. 
There were also heavy losses for India's rupee, the Canadian dollar and the Singapore dollar.
- 'Independence day' –
The outcome has upturned expectations, which had been for a tight race narrowly won by the "remain", while bookmakers had said there was a 90 percent chance of staying in.
But as the shock results rolled in, equity markets went into meltdown. 
Tokyo plunged more than eight percent in the afternoon, Sydney shed 3.7 percent and Seoul was 3.5 percent off. Mumbai lost three percent and Shanghai sank 1.4 percent by lunch, while Taipei, Wellington, Manila and Jakarta all saw sharp losses.
Hong Kong tumbled 4.7 percent by the break with British banking giants HSBC and Standard Chartered both plunging more than 10 percent.
In the early hours in Britain, Nigel Farage, leader of the anti-Europe UK Independence Party, declared victory, saying it was the country's "independence day".
The prospect of a severe hit to the global economy also hammered oil prices, with both main contracts slumping more than six percent.
"We are seeing oil swept up in the general market nervousness to the vote," RicSpooner, a chief analyst at CMC Markets in Sydney, told Bloomberg News.
"Corrections are likely to be fairly shallow in oil because prices will be supported by the fact a balanced market is firmly on the horizon."
- Key figures around 0400 GMT –
Pound/dollar: DOWN at $1.3305 from $1.4974 late Thursday
Euro/dollar: DOWN at $1.1030 from $1.1422
Dollar/yen: DOWN at 101.01 yen from 106.53 yen
Tokyo - Nikkei 225: DOWN 8.3 percent at 14,890.56
Shanghai - Composite: DOWN 1.2 percent at 2,857.58 (break)
Hong Kong - Hang Seng: DOWN 4.7 percent at 19894.12 (break)
New York - DOW: UP 1.3 percent at 18,011.07 (close)
London - FTSE 100: UP 1.2 percent at 6,338.10 (close)
© AFP