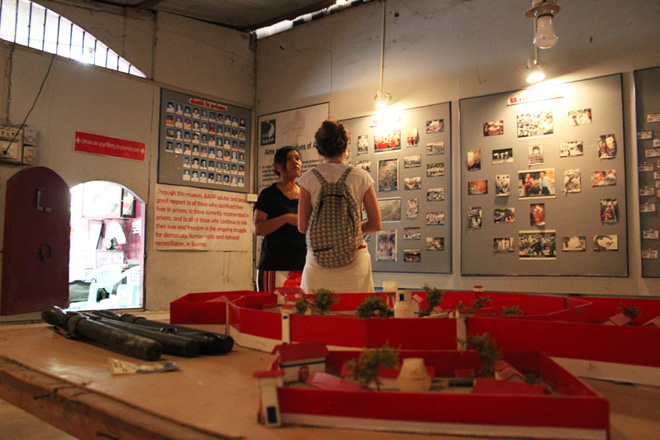 The Friendship Bridge that connects Myawaddy to Mae Sot is a sight for sore eyes after a 15-hour bus ride from Yangon to the booming Thai border town. If you travel direct from Yangon you will likely arrive at the border by late morning and will need to shed the sweater, hat, mittens and socks that kept you warm in the over-chilled air-conditioning on the bus. But don't worry, the protracted immigration process allows plenty of time to wake up, readjust your luggage and prepare for the short walk across the Moei River to Thailand.
The stretch of the river at the border is muddy. Still, young children can be spotted splashing in the opaque water, doing laps from the shores of one country to the other. On a recent trip I paused to watch a small wooden boat filled with people embark on the short trip to the Myanmar side not more than 1,000 yards (1 kilometre) beyond the bridge. Passengers scrambled up the dusty bank and disappeared into the town.
With my Canadian passport, Thai immigration was a breeze and within minutes I was on the back of a motorbike taxi making the 3.7 mile (six kilometre) trip to Mae Sot, aptly nicknamed 'little Burma' because it is home to about 200,000 Myanmar migrants. A few days in the growing, but slow-moving, town is the perfect antidote to a high-stress week in Yangon. However, change is coming to the town. To the amazement – and disdain – of longtime residents, massive discount stores are popping up along the section of the Asia Highway near the centre of Mae Sot.
During a water-shortage last year in Mae La camp, the largest refugee camp along the Thai-Myanmar border, a foreign volunteer teacher bitterly recalled aisles teeming with bottled water at the newly built Tesco Lotus outlet. He sought respite – and an internet connection – at Auntie's, a coffee shop with great espresso, and a recommended venue for anyone interested in learning about humanitarian endeavours in the area.
You may feel out of place in Mae Sot without Teva sandals, clothes made from hemp-based fabrics or a position at a non-government organisation that provides education and healthcare for the large population of displaced Myanmar. But don't feel discouraged. You have a number of options during your holiday to support good causes.
Begin by checking into Picturebook Guesthouse, a quaint boutique hotel just off Intharakeeree Road on the eastern side of Mae Sot. This social business uses all profits to fund its service and hospitality training program for youth in Mae Sot.
A bike with a large basket would be useful for your visit to the Mae Sot market after you unpack – and necessary to outrun packs of stray dogs at night.
Start your market tour at the north end of Baokhoun Road where vendors sell succulent fried chicken and many varieties of fruit – and, further along, live crustaceans and sea turtles. It feels a bit like an upscale organic farmer's market.
As you continue your discovery tour of the market it becomes noticeably less Thai and more Myanmar. Betel nut and pickled tea leaves abound as the lane narrows. If you become homesick browsing the cooking oil shop at the corner, go west on Baan Thung Road to buy a ticket in an eight-seat van from Myawaddy to Yangon for about K25,000. Be aware though, that the direction of the traffic heading towards Hpa-an alternates daily because of the narrow, winding round through the surrounding jungle-clad mountains.
Once you are back on Baokhoun Road continue south to the Best Friend Library. It was founded by the venerable Ashin Issariya, who played a key role in the monk-led uprising in Myanmar in 2007 known as the Saffron Revolution. "Here in Mae Sot I can help change many minds," the former protest leader told
me during a visit to the small library last year. He was referring to Myanmar workers who fill Mae Sot factories and do menial labour in the border town. "Higher education brings understanding and I try to share this with Burmese labourers who cross the border most days."
For an insight into the brutally-crushed 1988 national uprising and for a more border-based perspective on the situation in Myanmar visit the museum of the Assistance Association for Political Prisoners before heading to Borderline for Burmese fare and tea. The first floor of the collectively run space is a fair-trade shop. A gallery featuring artists "in exile" from Myanmar is upstairs.
The renowned Mae Tao Clinic, that was founded by the altruistic Dr Cynthia Maung and which provides free healthcare to Myanmar migrants and refugees, is about 1,000 yards, to the southwest, just off Intharakeeree Road. Tours of the small clinic, that has a typical annual caseload of more than 100,000 patients, can be arranged by donation.
Holy places line the north side of Intharakeeree Road, including a fascinating Chinese temple behind an abandoned police station. The bus station beside it offers rides north along Highway 105, that parallels the border between Myanmar and Thailand, and past Mae La camp.
Ending the day with green curry and Leo beer served with ice at the night market on Parasatwithee Road is recommended because, after all, you are on holiday in Thailand. However, Casa Mia and Canadian Dave's, both off Intharakeeree, offer a wide range of cuisine, including Italian, Mexican and Thai, with the added bonus of overhearing the daily development gossip. If you find yourself in deep political discussion, whatever you do, say ''Burma" not "Myanmar".
It may be difficult to leave the lovely town as you head back to the border, passing on your way elderly shopkeepers dozing off in their chairs and an abundance of cafes so lacking in Yangon.
After a few days of excellent food and the perspective from the other side of the border, hopefully the ease with which you are served at the immigration desk for foreign travellers – after cutting in front of scores of homebound Myanmar migrants clutching purple temporary passports – will have you reflecting on privilege during the long journey back to Yangon, and contemplating ways to give back.
Grim museum honours victims of persecution
The museum of the Assistance Association for Political Prisoners in the Thai border town of Mae Sot is a crash-course in Myanmar's recent political history.
During a visit early this month the tour began in the present when my guide, a former political prisoner, recited the most recent statistics on political prisoners in Myanmar. There are about 190 and since the AAPP widened its definition of political prisoner in January, the number includes farmers, most of whom were jailed for protesting against the seizure of land they regarded as their own. There are also 213 activists and more than 1,100 farmers awaiting trial. Faded photos of prison scenes drawn by former political prisoners are displayed on the concrete walls, next to close-up satellite images of some of Myanmar's most notorious jails, including Yangon's Insein Prison. A diorama of Insein is also displayed at the centre of the small museum. Batons used by prison guards are displayed next to an octagon-shaped model of the panopticon-inspired penitentiary, and behind it, there is a grim, life-sized model of a prison cell, which is disturbingly small, even when empty. Opposition leader Daw Aung San Suu Kyi's awards and honorary degrees acquired before April 2011 are listed on one wall, filling it almost from top to bottom.
But the most visually powerful section might be the portrait photos of those still incarcerated. Many of them have been in and out of prison so many times the display it is not worth updating, said my guide. AAPP staff provide explanations about periods such as the national uprising against the junta in 1988 and the monk-led protests of 2007 to students, development workers, diplomats and travellers alike. "If they just visit Burma
sometimes they cannot learn what really happened," said one staff member, who urged foreigners to learn about the "real conditions in Burma". [Portia Larlee]
AAPP Museum
26/2 Rat Uthit Road
Mae Sot, Tak Province, Thailand
---
This Article first appeared in the February 19, 2015 edition of Mizzima Weekly.
Mizzima Weekly is available in print in Yangon through Innwa Bookstore and through online subscription at www.mzineplus.com