Inside the factory walls: Myanmar radio reaches migrants in Thailand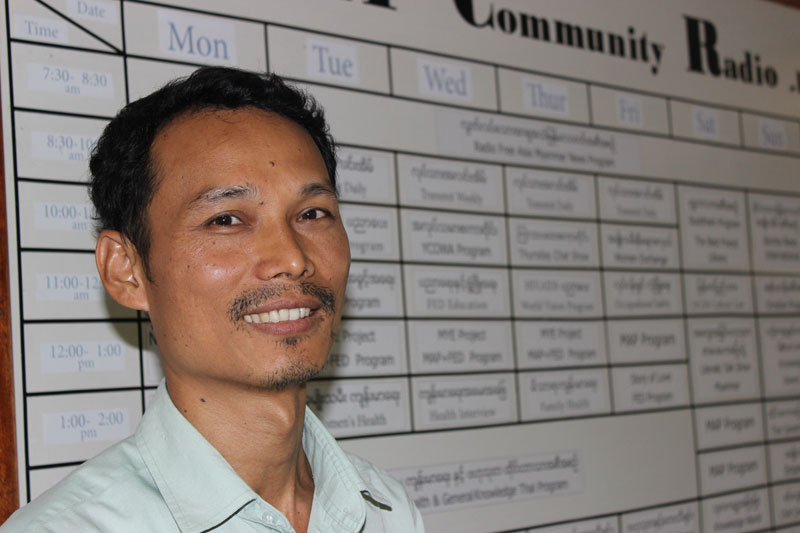 The thousands of Myanmar migrants working at factories and farms in and around the Thai border town of Mae Soe rely on one media source: community radio. It is a medium that transcends factory walls, immobility due to precarious immigration status – and illiteracy.
Tucked behind a large Chinese Buddhist temple in the growing Thai border town, which is home to about 200,000 Myanmar migrants, MAP Radio broadcasts invaluable information on issues ranging from healthcare to Thai immigration policy in Myanmar and Karen.
It is the only Myanmar language broadcaster in Thailand, said station manager U Naw Kham. Although other radio stations broadcast immigration information in Thai, it is not understood by most Myanmar migrant workers.
"There are a lot of media in the border area, but the problem is people from Burma [Myanmar]," said U Naw Kham. "We lived in a box for 60 years under an aggressive military regime; older people don't know how to use the internet, email, Facebook, and then they move to Mae Sot and stay in the factory and the farmland and have even more difficulty accessing the internet," he said.
Migrant workers were left in the dark after the Thai military seized power on May 22 last year and shut down independent community broadcasters in an attempt to defuse political tensions. After six months of dead air, MAP Radio reopened on November 29 after obtaining permission from Thailand's National Broadcasting and Telecommunications Commission.
Factory workers pick up the signal on transistor radios or stream the broadcast from their smart phones, U Naw Kham told Mizzima in an interview in the MAP Radio offices. The station is supported by the MAP Foundation, a grassroots group active in both Mae Sot and Chiang Mai.
With his head down, U Naw Kham made monotonous movements with his hands to imitate an assembly line. "Even while working, they can learn," he said.
Migrant workers often don't have time to read newspapers or printed information provided by NGOs and there are many areas, including farmland and jungle, that NGOs are yet to reach, he said. "Radio is access."
Many migrant workers cannot read, he added.
"They are labourers and workers; uneducated people can also turn on the radio," he said, a music program playing faintly in the background. "Radio is access."
The station receives scores of phone calls from listeners each day and is making an effort to connect with its audience. U Naw Kham recently visited a village about 15 miles from Mae Sot to complete listener surveys with its 25 Myanmar residents. The village population will grow to about 75 during rainy season when corn planting begins.
Villagers told U Naw Kham they learned about health issues related to the use of some pesticides from a MAP Radio broadcast.
Recently a woman factory worker called the station to thank it for broadcasting information about the risk of stirring three-in-one coffee with the plastic wrapper, he said.
"Migrant workers don't have time, they drink coffee quickly, but many don't understand putting plastic in the hot drink may cause cancer," said U Naw Kham, who holds monthly meetings with listeners.
Mae Sot has long been a hotspot for undocumented migrant workers, who often apply on arrival there for temporary passports, visas and work permits. It is a difficult population to reach; workers tend to flock to such areas as Bangkok or the nearby port of Samut Sakhon, where seafood processing factories employ thousands of Myanmar.
"Migrants are always moving," said U Naw Kham. "So NGOs and community organisations can share information and support migrants through the radio."
U Naw Kham, 41, a Myitkyina native and former student activist in Kachin State, said that for most of his youth he worked without pay for the All Kachin Student Union. After starting a family he sought work with the MAP Foundation to support his young children. Like many dissidents before him, U Naw Kham's activism stems from necessity – not choice.
"I have lived inside and outside of Myanmar for many years; I know the government's face from the front and I know its back and I cannot say much has changed," he said, "But there is power with knowledge."
This is the first article in a three-part series on Myanmar community media on the Thai-Myanmar border and the silent heroes working to empower migrants through information.
---
This Article first appeared in the February 12, 2015 edition of Mizzima Weekly.
Mizzima Weekly is available in print in Yangon through Innwa Bookstore and through online subscription at www.mzineplus.com