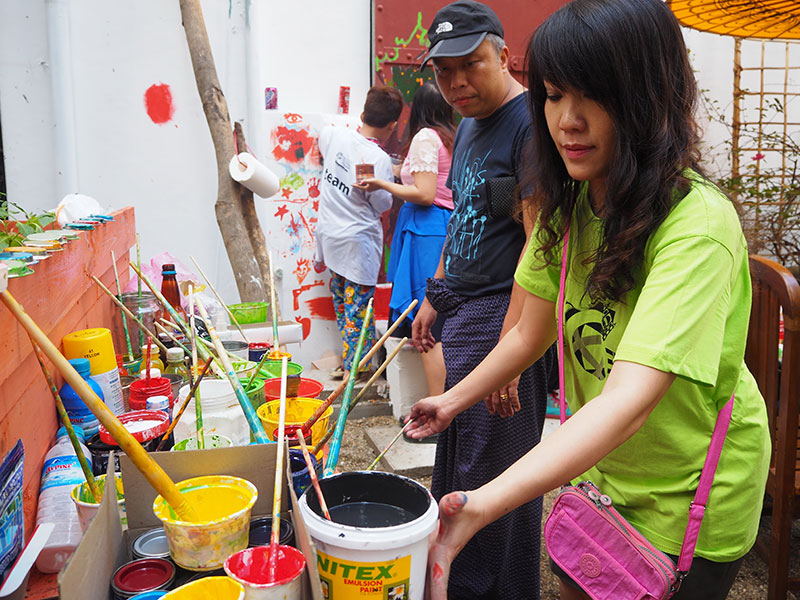 The peeling facades of Yangon's colonial-era buildings have attracted growing local and international attention, with a busy roster of schemes underway to save the built heritage of Myanmar's former capital. The city's back alleys, meanwhile, remain its dirty secret.
Occupying the narrow gaps between housing and commercial blocks in Yangon's downtown grid, the alleys are dark, litter-strewn, and home to teeming colonies of vermin.Largely out of sight and out of mind, few would wish to make use of them, other than as a latrine or convenient waste dump.
Doh Eain, a social enterprise founded in early 2016—concerned mainly with the restoration of Yangon heritage homes in a manner that benefits original residents—has taken the unlikely step of turning one back alley into a community garden.
Despite financial and practical hurdles, the initiative is gaining traction in a number of circles, and has won the vocal support of authorities from the ward to the city level.
Founder and director Emilie Röell said the idea came to her in July of last year to start a city farm, "where people can learn more about local and organic food production."As the difficulties of securing land grew more apparent, she came across the back alley, off 27th Street in downtown's Pabedan Township, while renovating an adjacent property.
In collaboration with gardening collective Yangon City Growers, the alley—abutting five properties—has been cleared of litter, the walls have been painted white to attract more light, and potted plants, bamboo trellises, and soil beds in raised wooden troughs have been installed. Lettuce, broccoli, aubergine, beans, gourds, and herbs are beginning to sprout.
But the alley garden is conceived as more than a space for growing organic vegetables. It is a flagship effort in a movement to reclaim Yangon's "waste" spaces—for the use and enjoyment of a population increasingly burdened by overcrowding, pollution, and a dysfunctional urban infrastructure that has not kept pace with the city's rapid growth.
On March 11 and 12, a mural painting workshop was held in the alley for local children. Under the direction of Soe Pa Pa Myint, founder of the OLGA children's art organisation, over 50 children from diverse backgrounds—Buddhist, Muslim and Hindu—covered the white walls with bright pictures of animals, insects, trees, and sea-life.
This was the first time the alley garden had been opened to the public, comprising one event in the second edition of theMy Yangon My Home arts and heritage festival, which ended on March 12.
The ward administrator,U Kyaw Lin Aung, delivered a speech at the mural workshop on March 11,declaring his full backing of the alley garden project—and its extension.
He told Mizzima of a plan to clear the entire alley, running the length of the block between Mahabandoola and Merchant roads, by September, paving the way for other gardens and shared leisure spaces.
The ward administrator said the biggest challenge was persuading the residents of the block to stop throwing litter into the alley from their windows—a practice that some Yangon residents have grown accustomed to over decades, particularly those inhabiting the upper floors of tall buildings, a steep walk from municipal dustbins at pavement level.
"We need to change the mind-set of the people," he told Mizzima.
MsRöell of DohEain said material support from authorities would likely stop at rubbish collection and the repairing of drains and septic tanks. She herself funded the preparation of the initial stretch of alley, and the garden now in place. Even with practical help from volunteers, costs ran over US$1,500.
Ms Röell hoped that community members could provide at least 10 percent of the funds towards transforming the remainder of the alley. She is now setting up a crowd fund to meet most of the costs through private donations.
One of the ways property owners could contribute, for a start, is by fixing their plumbing. Currently, spent water from households regularly cascades into the alley from broken or incomplete piping.
Yet, despite clear difficulties—and the uncertain fate of the garden during Yangon's formidable rainy season, lasting from May till at least September—there are signs that a wider movement may be constellating.
Ms Röell said a community from Sanchaung Township, to the northwest of downtown Yangon, had approached Doh Eain for advice on creating their own alley garden. On March 11, Pabedan Township authorities asked if Doh Eain could survey stretches of back alley located off 30th and 31st streets.
MsKalayar, liaison officer for the National League for Democracy (NLD)—Myanmar's ruling party—in neighbouring Kyauktada Township, visited the alley on that day. Impressed by the makeover,she told Mizzima she now intends to promote similar alley gardens for Kyauktada, with financial contributions from community members.
Plans would be discussed at the next quarterly meeting of community members, in the last week of April, Ms Kalayar said.Some potential back alleys have already been identified, she said: those linked to 39th Street, upper block and 40th Street, middle block.
U Hla Htay, who owns a tile shop on 27th Street, said repurposing back alleys as community gardens would provide safe, clean and colourful play areas for local children, who now have little choice but to dodge trucks and stray dogs in the busy numbered streets of downtown.
Soe Pa Pa Myint of OLGA Children's Art told Mizzima she looked forward to working on art projects in other transformed back alleys in Yangon. 
After significant publicity was garnered over the weekend—photographers, reporters, and TV crews from a range of domestic media outlets were present at the event—the clearance of the remainder of the alley off 27th Street appeared to have been drastically fast-tracked.
To the surprise of Emilie and her colleagues, a team of labourers in orange overalls bearing the name of the Yangon City Development Committee(YCDC) arrived on March 14 morning to begin work,supervised by officers of the Pollution Control and Cleansing Department.
Yangon's mayor, U Maung Maung Soe, came at 2 pm that day to lend his endorsement. "We need to do rather than just say," he told Mizzima, in reference to this uncharacteristically rapid show of action from the city government.
With uniformed officers looking on, the labourers conveyed bucket after bucket of a dark, treacly admixture of plastic and organic waste to trucks parked in the road outside. By the early afternoon, most of the alley was clear, leaving stretches of bare concrete.
However, this was the second time in less than six months that this alley had been cleared of rubbish.
In August of last year, the YCDC launched an operation to clean all the back alleys of downtown, decreeing heavy fines for those who continued to litter. Heroicpictures of municipal labourers knee-deep in alley sludge circulated in newspapers and on social media. 
U Cho Tun Aung, a retired lieutenant colonel who heads the city's Pollution Control and Cleansing Department, told Mizzima that the YCDC's phased alley clearance project would soon be moving uptown to Mingalar Taung Nyunt and Bahan townships.
Yet, the enforcement of prohibitions on littering has been lacking—as the continued stench emanating from the "cleared" back alleys in Pabedan Township make plain. Similarly, Ms.Kalayar of the NLD confirmed that, in Kyauktada Township, back alleys had piled back up with rubbish in the intervening months.
The alley clearances by YCDC were motivated mainly by public security and health concerns: uncluttering emergency exit routes, and mitigating the spread of potential diseases. The city authorities conceived no alternative use for the alley spaces.
Positive examples of how the city's back alleys could be transformed for community use—and enjoyment—could prove more effective in changing habits mind-sets than limp government-imposed deterrents.
The alley garden off 27th Street, now sown with organic vegetables and enlivened with colourful murals of birds, bears and trees, is one such example.
For more information about the social enterprise, visit www.doheain.com, or follow them on Facebook @DohEainYGN