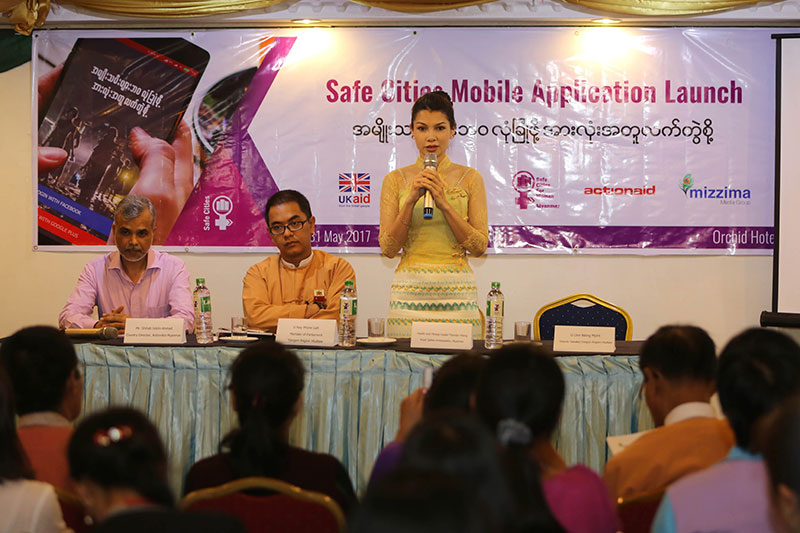 A 'Safe Cities' mobile application for the safety of women has been developed under the motto of 'Join hands together for the safety of women'.
The launching ceremony was held jointly by ActionAid and Mizzima Media on May 31 in Yangon at the Orchid Hotel and was attended by legislators of Yangon Region Legislative Assembly, CSOs, and women's activists.
Lwin Lwin Hlaing, the project coordinator of ActionAid Myanmar, said, "As soon as a user is logged into the app, the location of the user will be displayed via GPS. The user can post if she feels safe or unsafe travelling in the area where she is. She can say why she feels unsafe, what the problem,is it a bad sidewalk or lack of streetlights etc. users can report these things based on area. The contact numbers of service providing organizations and governmental departments are provided in the application."
The application also provides contact numbers of police stations, fire stations, local authorities and charity organizations in case of danger.
At the ceremony attendees discussed how best to use it and what benefits the users can get from the app. Legislators from Yangon Region Assembly said that they would cooperate for the safety of women.
Road Safety Myanmar ambassador and model Thandar Hlaing said, "It is the duty of artistes to do our best in helping awareness of this app by campaigning among our circle first through those who have more capacity in outreaching to people to make them use the app."
Users can get the 'Safe Cities' mobile app in Google Play Store by entering the key word 'safecities'. Currently,it is available only for Android phones the developers are still working on iOS based iPhones.