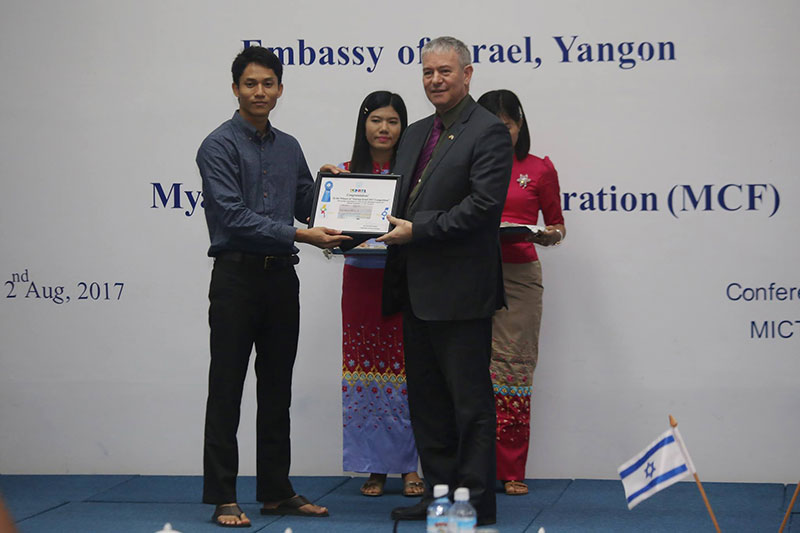 The final judging and awarding Ceremony of the "Start-up Israel 2017 Competition", was held at the Conference Hall, MICT Park, Yangon on 2nd August   2017, organized by Myanmar Computer Federation (MCF) in collaboration with the Embassy of Israel in Yangon. The ceremony was attended by U Thein Oo (Patron, MCF), U Khon Oo (President, MCF), H.E.  Mr. Daniel Zonshine(Ambassador of Israel to Myanmar), honourable Judges and the contestants, as well as executive committee members from MCF.
Among the top finalists, the judge committee has chosen "Mr. Moe Htet Kyaw (MD, IT Profile Software Development& Consultancy Services)" as the winner of "Start-up Israel 2017 Competition" with his project "Shwe Bite" Intended to personalize the finding of relevant restaurants for customers. The first and second runner-up prizes went to Mr.Zaw Naing (Autonomous University Allocation System) and Mr.  Ye Vint Aung (MARTER-  Farm Solutions: Climate-Smart Agriculture).
The winner will have an opportunity to participate in one week "DLD Tel Aviv Innovation Festival 2017" in Israel with the sponsorship of Israel's Ministry of Foreign Affairs. 30 winners from around the world will meet in Israel in the start-up event to be held in September. DLD will celebrate Tel Aviv as a city of Innovation, and will bring together key level figures from all fields- digital, finance, computing, telecom and more.
This year's focus was on - Promoting Innovation and entrepreneurship that has social impact- "Making the world a better place."
The ceremony, covered by a number of local journalists and TV Channels, gave an excellent opportunity to young people from Myanmar, to expose their talents and express the special relations and friendship between the people of the two countries.