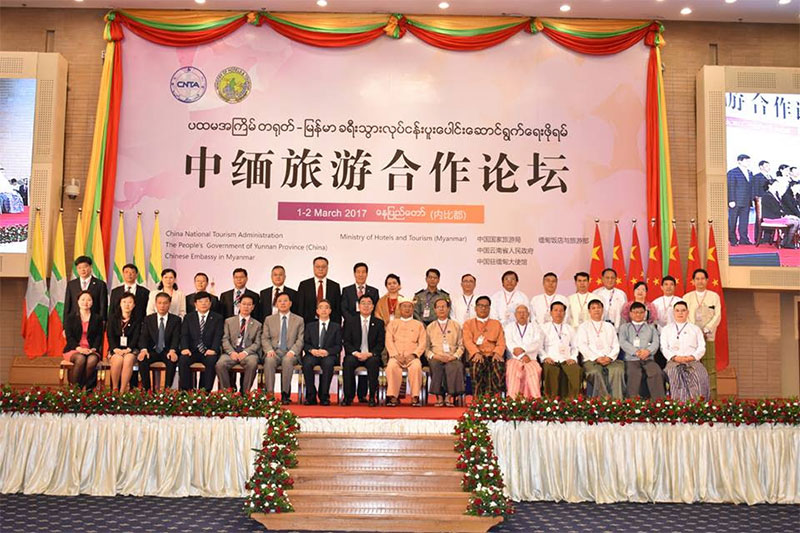 A China-Myanmar tourism cooperation forum, the first of its kind, kicked off in Myanmar's capital of Nay Pyi Taw Wednesday. 
The forum is co-organized by the China National Tourism Administration (CNTA), Myanmar Ministry of Hotels and Tourism, the Chinese Embassy to Myanmar and China's Yunnan provincial government. 
Speaking at the opening ceremony held here, U Ohn Maung, Myanmar's minister of hotels and tourism, said the forum is aimed at enhancing the bilateral cooperation in tourist industry. 
Noting that since Myanmar and China, neighbors sharing a common boundary, initiated a tourist cooperation deal in 2000, U Ohn Maung said the two countries have mutually benefited from the cooperation, thanks to the existing friendly relations and close cooperation in recent years. 
At the ceremony, Du Jiang, CNTA vice chairman, recalled that Myanmar has become an organized tourist destination of Chinese nationals in June, 2001, having signed a series of tourist cooperation accords since then to facilitate cooperation in the sector, bringing about the fact that China now is Myanmar's second biggest source of incoming tourists. 
Noting that China has introduced a series of open door policies in support of tourism development, Du believes that the move will strongly push China's tourism cooperation with surrounding countries including Myanmar.
Courtesy Global Times