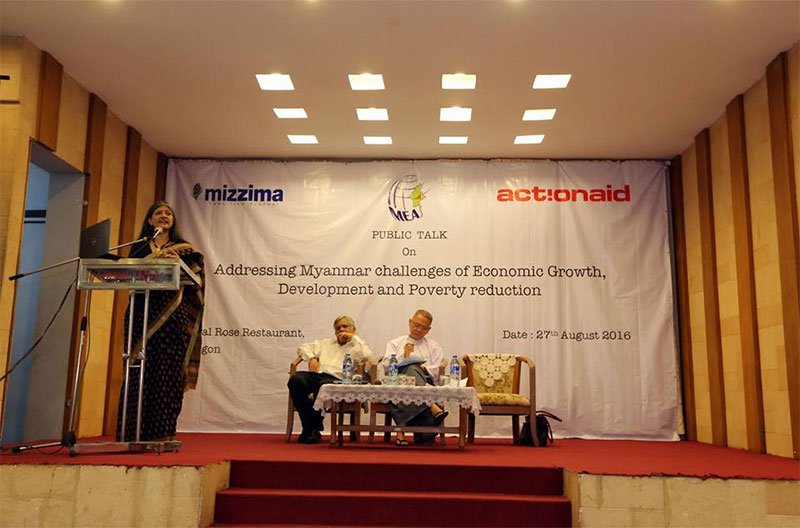 Highlighting the need for a comprehensive social policy, Prof. Jayati Ghosh, visiting Economist from JNU, India pointed out that "Investment in promoting social policies and universal social protection will yield long term dividends for an inclusive economic growth and most of the recently developed countries including Asian Tigers like South Korea have invested significantly in social sectors while they are steering the economic growth" for their economic growth.
Giving a public talk on "Addressing Myanmar challenges of Economic Growth, Development and Poverty Reduction; Lessons from the Developing Countries" on August 27, Prof. Jayati Ghosh pointed out the need to view social policy as development policy.  The perception that only after economic growth takes place, countries will be able to generate resources for social sector spending is not only incorrect but also it would dampen the sustainability of the growth.
Speaking on the occasion Prof. C P Chandrasekhar, macro economist from India pointed out the need for home-market based growth strategy.    Such a strategy should also be able to earn reasonable amount of foreign exchange.  Unfettered opening up for foreign investment need not be the case for Myanmar and it should be encouraged to the extent that the country is able to service the cost of FDI.  It should be allowed in sectors where it can enhance stability of the overall foreign reserve position and generate surpluses.  It should also be in the sectors that can bring in technology and innovation and improve productive capacities of the domestic players.  Strengthening capacities of the domestic industry should also be seen as an objective of FDI. Caution is needed in terms of FDI rules as some of the practices of the companies in transferring resources through transfer pricing and other mechanisms are associated with FDI.
Both the scholars spoke at the public talk organized by Myanmar Economics Association, Mizzima, Renaissance Institute and ActionAid on 27th Aug 2016 at the Royal Rose Resturant.  Attended by over 100 scholars and CSOs, the public talk provided a platform for a lively discussion on range of issues and challenges of economic and social development of Myanmar.
Scholars pointed out that for an Agriculture based country like Myanmar, the thrust has to be on agriculture productivity enhancement.  Moving from low value primary commodity production to high value production both in agriculture and natural resources is required (in sectors like mining, timber etc).  For overall growth what is needed is investments in physical as well as social infrastructure.  Public investment in infrastructure is needed that would "crowd in" private investment. Social infrastructure (improving education and skills of youth) would enhance the competitiveness of the economy vis a vis other neighboring countries.
On the issue of resource mobilization, both the scholars pointed out the need for tax reform especially to increase the direct taxation and progressive tax system.  Improving efficiency in tax administration would also be important to enhance revenues.  Similarly renegotiation of terms and conditions for 'resource rent'  (fee, royalties, revenue sharing terms etc)  particularly of natural resources like gas and power would also generate revenues for the government and Myanmar should exercise such bold options so as to use its natural resources more efficient and prudent way to fund social sectors.
Welcoming the visiting scholars, Prof Kyaw Min Htun, President of the Myanmar Economics Association pointed out that experiences of other developing countries would be valuable for Myanmar as the new government is open to listen to all advice and views.   It is important that economic policy decisions are taken with a broad approach of inclusive social and economic development of all citizens.
(The author works with ActionAid in Myanmar)