A Myanmar literary journal in Mae Sot struggles to survive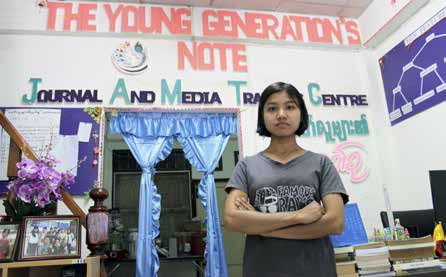 It was difficult to arrange a meeting with Ma Thu Ta Sen, the manager of Young Generations' Note, a literary journal based in the Thai border town of Mae Sot. Ma Thu Ta Sen works full-time in a restaurant and spends her evenings teaching Myanmar. We met on a busy street corner during a 30-minute break from her waiting job before she led me to the journal's office.
She appeared exhausted, but was eager to discuss Young Generations' Note, that she and a few friends, all from Myanmar, founded in 2010. After months of mobilising support and raising money the first issue of the beautifully illustrated Myanmar language journal was published in September 2011. It was distributed monthly at migrant schools, refugee camps and factories along the border as well as inside Myanmar.
A collective of young volunteers contributed towards the cost of printing and distributing about 1,000 copies of the journal each month. The journal was an exercise in freedom of expression, said Ma Thu Ta Sen, adding that it also aimed to encourage young people to think critically, a capability that was suppressed during the years of military rule. Its content included articles on philosophy, poetry and commentary.
Ma Thu Ta Sen, 24, who is from Mawlaymine, was wearing her waiter's uniform and pushing an oversized road bike as we neared the nondescript office building where she has been living since June. She arrived in Mae Sot in 2010 to attend English classes and was surprised to learn she had entered what was then called a "National League For Democracy Liberated Area."
"I just came to continue my education. I didn't know anything about politics and about the NLD," she said, as she unlocked a series of padlocks on the office door.
Almost immediately after arriving in Mae Sot, Ma Thu Ta Sen met another young migrant from Myanmar, Ko Satkyar, who was the first to propose the idea for the journal.
"I'm really interested in trying to get people to read and giving 'mind power' to Burmese people," Ma Thu Ta Sen said.
"When I was younger I set up a library in a small village outside Mawlamyine. So when I heard about the journal I had to be involved."
The journal never relied on funding from non-government organisations. "We wanted to stand on our own feet, so we collected money from members and we put our pocket money and our salaries together to pay for everything," she said.
Ma Thu Ta Sen pays the rent on the office space because other members of the editorial board were unable to make ends meet in Mae Sot and are scattered throughout Thailand and Myanmar looking for work.
After the Thai military seized power on May 22 last year and shut down community radio stations in a bid to defuse political tensions, the journal's board became concerned about the possibility of reprisals and ceased publication last June.
Mae Sot-based MAP Radio, which provides news and information in Myanmar and Karen to migrant workers in Thailand, was permitted to reopen last November.
Young Generations' Note has remained silent because the editorial board was unable to secure grassroots financial support and its members needed to devote time to finding jobs.
The Young Generations' Note office has a stocked library, computers and is decorated with colourful posters made from the journal's covers. It was hard to believe that the journal was out of commission.
"Burmese youth are working for their livelihood and for their parents and families, many couldn't work at Young Generations' Note anymore," said Ma Thu Ta Sen, who makes barely enough to pay the rent and support herself. "This is the borderline, everyone has to work," she said.
Money matters are not the most of Ma Thu Ta Sen's worries. Police in Mae Sot have stopped her on the street and demanded bribes after examining her immigration documents. Such encounters, experienced by many Myanmar migrants living in Mae Sot, often end in extortion.
Still, she works hard to pay rent on the office and is in regular contact with other members of the Young Generations' Note team to brainstorm ideas for their next move. They include plans for mobile application for the journal, said Ma Thu Ta Sen.
"This journal, this critical thinking, is very important for Burma. That's why we stay and try to move forward," she said.
This is the third in a three-part series on Myanmar community media on the Thai-Myanmar border and the unsung heroes working to empower migrants through information.
---
This Article first appeared in the February 26, 2015 edition of Mizzima Weekly.
Mizzima Weekly is available in print in Yangon through Innwa Bookstore and through online subscription at www.mzineplus.com