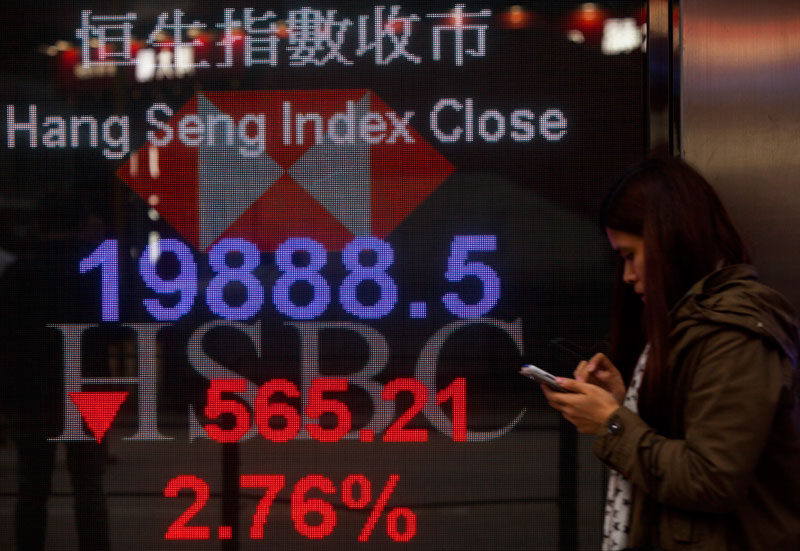 Hong Kong stocks plunged nearly four percent Thursday as dealers returned from a three-day Lunar New Year holiday to play catch-up with a worldwide market rout fuelled by concerns over the global economy.
On the first day of trading of the Year of the Monkey the Hang Seng Index plunged 3.85 percent, or 742.37 points, to 18,545.80, around their lowest levels since June 2012. It has lost about 15 percent already this year.
Hong Kong led a broad sell-off across the region, with energy firms hit as an ongoing supply glut and production splurge saw oil prices sink below $27 a barrel.
Dealers continued their flight to safe investments that has played out across trading floors from Asia to the Americas this week as they fret about a possible global recession.
Selling was also stoked by concerns about riots in the city this week that saw police battle street sellers, injuring several people, which analysts said could hit tourism.
"You can't avoid a drop because everywhere has come down so much during this time and the same concerns are still there - oil price, global recession," Steven Leung, an executive director for institutional sales at UOB Kay Hian, told Bloomberg News.
"The image of Hong Kong as a metropolitan city has been hurt quite seriously" by the riots, he said.
Traders were also spooked by comments from Federal Reserve boss Janet Yellen suggesting the US was at risk of contagion from the turmoil ravaging the global economy.
"Financial conditions in the United States have recently become less supportive of growth, with declines in broad measures of equity prices, higher borrowing rates for riskier borrowers, and a further appreciation of the dollar," she told the House Financial Services Committee Wednesday.
"These developments, if they prove persistent, could weigh on the outlook for economic activity and the labour market."
Energy firms were battered as oil prices continued to head south owing to the supply glut, overproduction and the prospect that demand is unlikely to pick up any time soon.
US benchmark West Texas Intermediate was 1.8 percent down, below $27, while Brent shed one percent to fall below $31. That came a day after WTI sank 1.8 percent and Brent lost 1.7 percent.
Among Hong Kong energy firms CNOOC dived 5.34 percent to HK$7.45, PetroChina shed 5.10 percent to HK$4.47 and Sinopec sank 6.39 percent to HK$4.10.
There were also hefty losses across the rest of the index. Tencent lost 5.56 percent to HK$135.90, HSBC tumbled 5.44 percent to HK$49.50 and insurer AIA was 3.17 percent off at HK$38.15.
© AFP