Female sports stars struggle in a male-dominated arena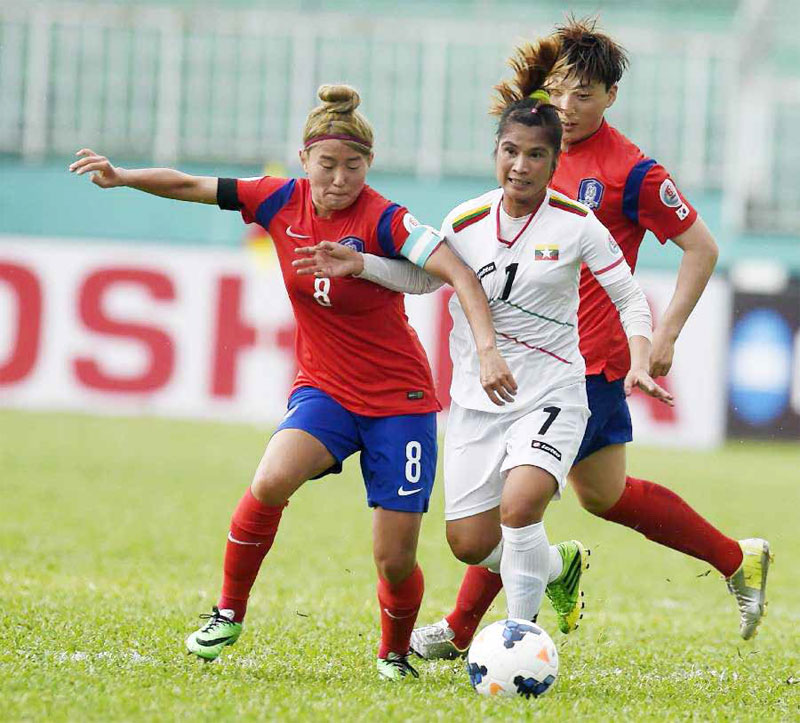 There have been famous women in sports for many years. Although they tried to serve their country through sports, they have experienced criticism rather than praise. In addition, they have received little support from their families and many veteran sports women face hardship after they retire.
Myanmar society often appears to have a skewed view of sports women, some people being derogatory in claiming they are lesbians, and being looked down on. They are also regarded as inferiors by their families and community, and in some cases, a number of sports women have had to break from their families.
"My parents beat me when I played football in my childhood. However, I played with my cousin," said Myanmar National Women's Football Team's selection and favourite footballer Than Than Htwe.
She chose the profession as she loved playing football. Than Than Htwe was selected to play for the Myanmar National Women's Football Team in the 2001 Malaysian SEA Games. She has already won nearly 20 silver and bronze medals representing the country. 
Myanmar sport women have had to struggle for years and often found they could not even afford to buy sport equipment. Myanmar's famous track and field champion, Pa Pa, was the focus of international media when she took part in a track and field contest without wearing shoes.
"I did not intentionally make myself popular. I feel more free. It is convenient and comfortable without shoes. I trained without shoes before I could afford to buy them," said Pa Pa, who entered the sports world in 1993 and became a national champion when she was just 13. 
Typical women
Many people regard sports women as strong and not fitting society's views of how women should perform. 
"I admired other girls going around with beautiful dresses. But I have contented myself that living such a style is not appropriate with my profession. Actually, I am satisfied with my life," said footballer Than Than Htwe.
Myanmar Wushu champion Sandi Oo said, "When I leave sports, I want to become a make-up artist." She is now 21-year-old and became a Myanmar Wushu player when she was just eight years old. 
A common perception is that romance does not favour Myanmar women champions as their entire lives are devoted to sports. 
"I have no sweetheart. As they could not understand my life, our ties will not last long. Only my colleagues and coaches are my companions," said Than Than Htwe.
Sandi Oo said, "I do not have a lover and I cannot consider marriage life as we have to join a long-term training camp, I often fail to join in social affairs."
Fan support 
After Myanmar sport teams have gained success in the local and international arenas, sports women win the support of fans, an important motivator. 
"I was happy when a man showed me a tattoo of my picture on his body," said Than Than Htwe who won great praise from football fans in the 2013 SEA Games.
Sandi Oo also said she appreciates the support of her fans through Facebook.
Myanmar sports women have to exert more effort than men by trying harder to gain success for their country. However, the salaries of Myanmar sports women are much lower than those of men. This situation needs to change. 
Many Myanmar sport women have stood out in history. Jenifer Tin Lay, Khin Khin Htwe, Khaing Khaing Maw are some examples. However, a new generation of Myanmar sports women need both physical and mental support from people across the country. 
---
This Article first appeared in the July 23, 2015 edition of Mizzima Weekly.
Mizzima Weekly is available in print in Yangon through Innwa Bookstore and through online subscription at www.mzineplus.com