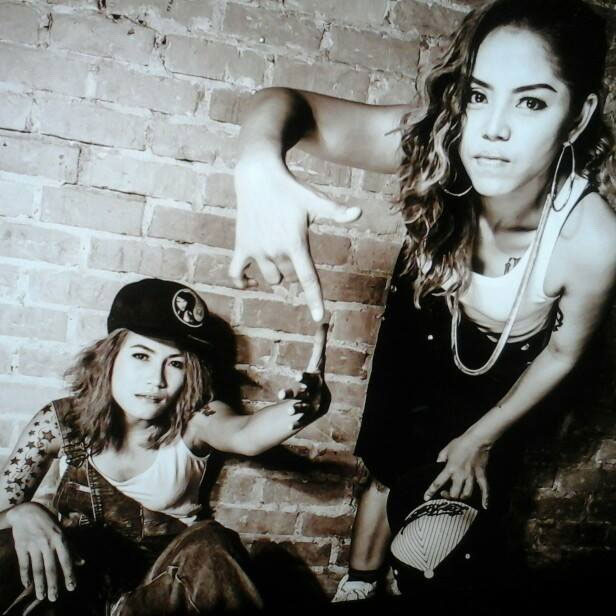 All young music fans in Yangon have heard of the two female hip-hop singers called Y.A.K. They sing hip-hop songs with the equal expertise of their fellow male counterparts. These dynamic artists were first noticed by music fans in Yangon because of their unique non-feminine style and fashion while performing at underground venues. The question is who are Y.A.K and what are their objectives? 
Yak or Yangon Always Kingdom
Even many Y.A.K fans do not know the exact meaning of Y.A.K. The name of the band of these two female singers is extremely meaningful. 
"Y.A.K is the name of a bird. When we planned to form this band, the sister of one of our friends who is a lecturer in the Zoology Department, gave this name to our band. If you google Y.A.K on the net, you will find the hairy Tibetan cow but in the English-Burmese dictionary, you will find a sort of bird called 'Samari' its feather is one of five royal appurtenances," band member Thazin explained. Another meaning of the name of the band is given by their fans as 'Yangon Always Kingdom'. 
Y.A.K was first formed by Thazin in 2003 and she was joined by Aye Aye Aung in 2004. They first performed in underground concerts and now – years after their start - they are planning to produce an album. 
A struggling hip-hop journey
Unlike their fellow female singers, Y.A.K is on this musical journey with their own attitude. The journey they have walked has not been easy. "The reason behind having only a few female singers in hip-hop music is their unique nature of being masculine. They should not be feminine but at the same time if they are too masculine, some of the audience would not like us. So our journey was full of struggles and we met a lot of hardships. And also we had to learn much about this music," Thazin said. 
Unlike their fellow female hip-hop singers, they will not change their music to either pop or R&B even after they became successful. Thazin said that they are steadfast in their music style and would not change it. However, she went on to say that she would not like to comment on female hip-hop singers who have changed to other music. "They made their own choice in their profession. They chose their music for their fame and money. I have no comment on them," Thazin said. 
Despite the growing popularity of hip-hop music among music fans, the number of female singers in the industry is still very few. Even their male counterparts have to struggle hard in this genre. These two female hip-hop singers have been in the business for over ten years. 
Referring to Y.A.K., Cyclone band member Thuta Aye said, "It's good to see such female singers in our hip-hop music and they should be in this music. And we are happy to have such female singers in our music so that we can give them some necessary assistance." 
Thazin said they were determined to walk on this hip-hop journey forever but they were not certain of the future because of the changing situation in Myanmar. "We have our favourite hip-hop singer called Missy Elliott. She is still performing on the stage but she is too old. So we intend to sing hip-hop music as much as we can but in our country success can last only seven years at the most. So we cannot say what our future will look like as we are not certain to maintain our fame and success," Thazin said. 
Y.A.K and women 
Most of the songs of Y.A.K are written around lives of people and they intend to give a message to young people in their songs. They are very careful in writing their songs not to include thoughts that will not be helpful to Myanmar's youth. 
Since they are female singers, they also write songs reflecting and representing women but they would not write political songs, they said. Despite their songs encouraging women to overcome hardships and struggles in their lives, their own lives reflect the difficulties they face in balancing their music career and actually making a living. But they claim they will never leave their musical career. 
Y.A.K. member Aye Aye Aung said, "The music is our hobby and at the same time we have to do some work for our livelihood. Both of us work to earn money. We perform concerts, record in the studio at night and we write our songs at night and in our leisure time. This is our daily life. We will never chicken out from our chosen hobby and career. We hope someday we can survive and earn enough money to live." 
The current situation of these two young singers reflects the lives of other fellow hip-hop singers who face a lot of hardship. Some criticize them for their lack of femininity in their fashion but they are happy in what they are doing and focus only on their music and reaching their goal. Thazin responded to such criticism saying: "In fashion, we liked T-shirts and baggy pants before. We did not choose this fashion for our music. But we have not yet received criticism on us flirting or having a loose character. Even if we have, we won't care about them. Our work and our history will answer their criticism." 
Y.A.K. perform their music with a bluntness and honesty that wins over their music fans.
---
This Article first appeared in the July 30, 2015 edition of Mizzima Weekly.
Mizzima Weekly is available in print in Yangon through Innwa Bookstore and through online subscription at www.mzineplus.com