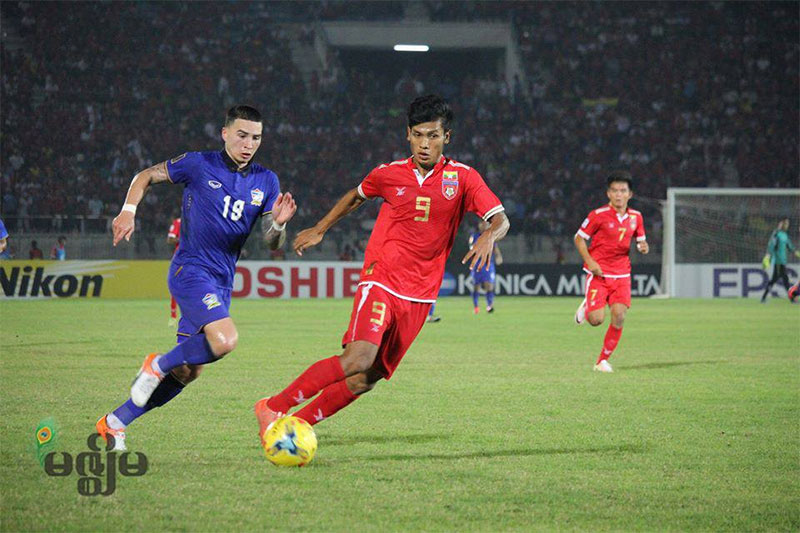 Thailand thumped Myanmar 2-0 in the first leg of their Suzuki Cup semi-final on Sunday thanks to a double from star striker Teerasil Dangda.
The Southeast Asian heavyweights are regional favourites in the tournament and are bidding to become the first country to win the biennial competition five times.
The War Elephants cruised to a comfortable away victory in Yangon, leaving Myanmar with an uphill battle when they come to Bangkok for the second leg on Thursday.
Teerasil struck home in the 23rd minute when a through ball to him was briefly intercepted by a Myanmar defender onto the feet of Chanathip Songkrasin who quickly passed to the now unmarked striker.
Teerasil comfortably smashed the ball past Myanmar's keeper.
Some 15 minutes later the home crowd briefly thought they had equalised but Mg Mg Lwin was deemed offside when he tapped the ball into an empty net.
The Thais, the last Southeast Asian squad still in the running for the 2018 World Cup, doubled their advantage on 55 minutes when Theeraton Bunmathan found Teerasil just outside the penalty box.
Teerasil turned, dribbled past a Myanmar defender and struck bottom left, leaving the home side's keeper rooted to the spot.
Thailand or Myanmar will face either Indonesia or Vietnam in the finals. Earlier in the day, Indonesia beat Vietnam 2-1 in their first leg semi match in Jakarta.
© AFP