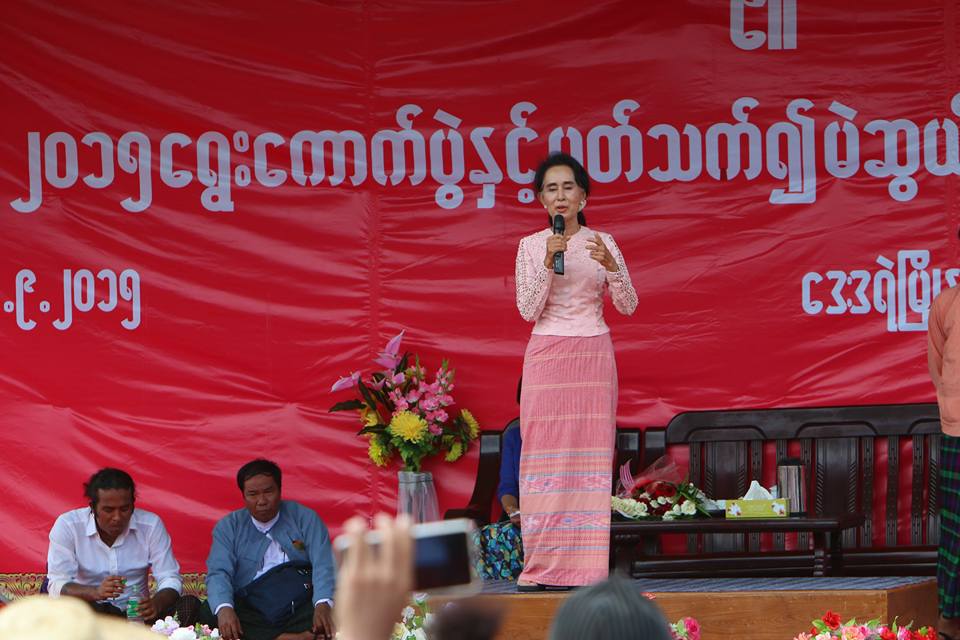 Myanmar opposition leader Aung San Suu Kyi said Tuesday supporters need not be afraid when they cast ballots in a landmark election, as she railed against government neglect while campaigning in her rural constituency.
 
Suu Kyi received a rock star welcome in her impoverished constituency of Kawhmu, as she worked to bring her party victory in the first nationwide polls it has fought for 25 years.
 
"It's not 1990 anymore, so people don't need to be afraid. They can be brave to vote for the National League for Democracy," she told a rally in remote Wah Ba Lauk Tauk village, referring to elections that were won by her party but ignored by the then-junta.
 
The NLD is expected to sweep the November 8 parliamentary polls, seen as a test of democratic progress in a nation that only emerged in 2011 from a half-century of military rule.
 
But beyond that, much remains uncertain.
 
The army will still wield considerable political clout, with a quarter of parliament's seats reserved for unelected soldiers.
 
And Suu Kyi has not revealed her preferred candidate for president, who is chosen by parliament in the months after the vote.
 
She herself is excluded by a clause in the junta-drafted constitution which bars those with foreign spouses or children from top political office -- her sons are British.
 
She has also come under fire for a lack of concrete policies, although the party has released a selection of broad priorities in a recent manifesto -- including encouraging investment, improving tax collection and bringing "new ideas" into agriculture.
 
In her Kawhmu constituency, where ramshackle homes nestle under graceful bamboo trees and most people scratch a living from farming, people are beginning to see flickers of development after decades of neglect under Myanmar's former military rulers.
 
Schools and clinics have been opened in the community 60 km (37 miles) south of Yangon, while new concrete roads weave through paddy fields and rubber plantations. But many communities in the area are still only accessible by boat or rutted tracks.
 
The region was thrust into the limelight in 2012 when Suu Kyi won a by-election that parachuted her into Myanmar's military-dominated parliament, one of the most dramatic signs of reform in the long-isolated nation.
 
Observers say the veteran activist, who spent years abroad before she was swept into the country's democracy movement in 1988, had little experience of rural life before representing the region.
 
"If you look around Kawhmu Township, some roads are very good but those roads are not constructed by the government," Suu Kyi said at a rally.
 
She said most road improvements had happened after she "requested help from international organisations".
 
The opposition leader has showered Kawhmu with over $4 million in development aid from donors, disbursed by the Daw Khin Kyi Foundation -- a charity set up in honour of her mother.
 
It has built a hospitality school for young people keen to join Myanmar's booming tourist industry.
 
Students in the gleaming facility on Tuesday watched entranced as tutors showed them videos of cocktail lounges in their bartending class, which was swiftly followed by a less glamorous laundry demonstration.
 
"I am interested in hospitality -- and also it is free of charge. I attend because I'm poor," said Sa Aung Myin, 24, who comes from a farming family.
 
Any new government will face tough decisions about state spending in a nation still struggling with the legacy of army rule.
 
Myanmar has the lowest life expectancy in the region thanks to meagre health spending.
 
Despite reforms and the removal of sanctions in recent years under the quasi-civilian government, international investors still complain of legal uncertainty and poor infrastructure.
©AFP