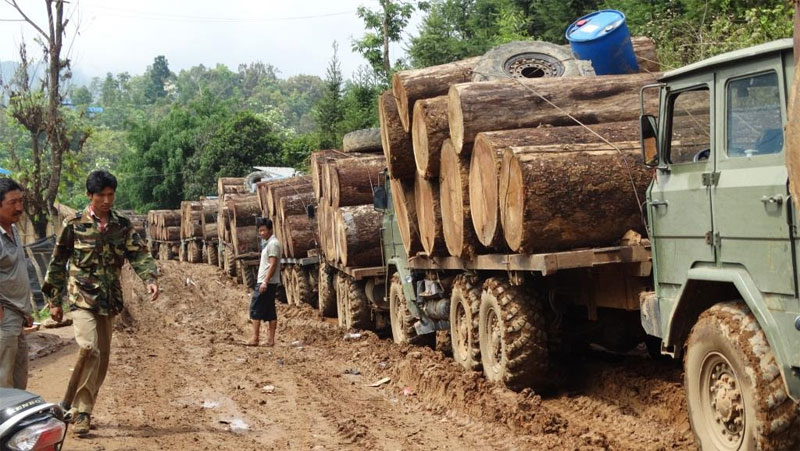 The Environmental Investigation Agency (EIA) today, 17 September, released a new report following extensive undercover investigations into the timber trade in China and Myanmar, exposing the key actors and systemic corruption which drive and facilitate it.
'Organised Chaos: The illicit overland timber trade between Myanmar and China'documents how in Kachin State all parties profit, from shady Chinese businesses paying in gold bars for the rights to log entire mountains to the official corruption which allows the timber to pass through various checkpoints.
Kachin and Yunnan Province in China are at the heart of the trade but stolen timber is increasingly being sourced from deeper within Myanmar to feed factories in south and east China. The bulk of the timber moving across the border is now high value species of rosewood and teak.
Talks between Myanmar and China are due to take place in Nay Pyi Taw, Myanmar, on September 24 and EIA calls on both countries to take urgent effective action against the massive illicit timber trade.
Faith Doherty, EIA Forest Campaign Team Leader, said: "At first glance, this cross-border trade looks to be both chaotic and complex, with most of the stolen timber trafficked through Myanmar's conflict-torn Kachin State, but the reality beneath the apparent anarchy is an intricate and structured supply chain within which different players have defined functions and collude to ensure the logs keep flowing."
The trade appeared to have peaked in 2005 when one million cubic metres of logs crossed the border but, following a brief hiatus when Chinese authorities clamped down, the scale is once again nearing peak levels. This trade contravenes Myanmar regulations prohibiting overland export of wood and the country's log export ban introduced in April 2014.
At stake are some of the most ecologically important remaining forests in South-East Asia. EIA's evidence shows that as intensive logging exhausts forests in the border area, Chinese-run operations are encroaching deeper into Myanmar.
Doherty added: "Both Myanmar and China need to take urgent and effective action to stem the torrent of illicit timber flowing across their joint border or watch conflict, violence and forest destruction continue to escalate."