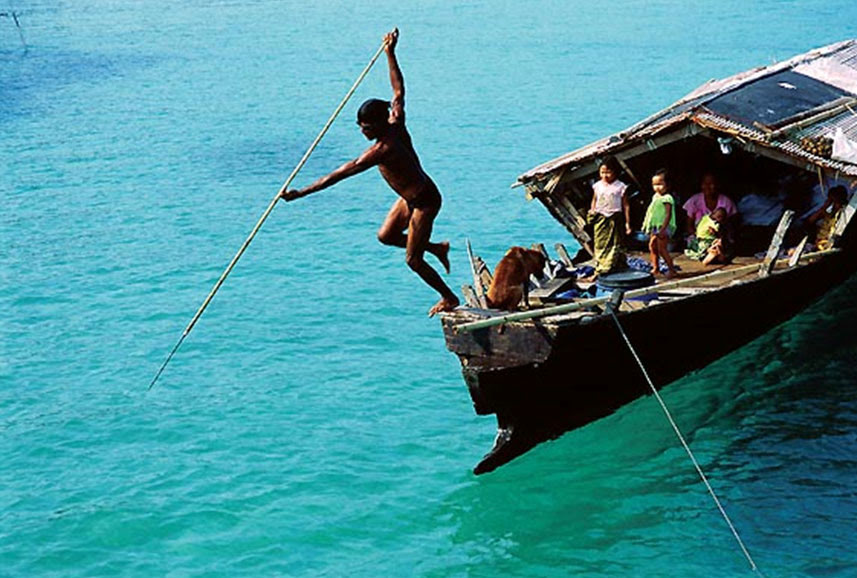 The governments of Thailand and Myanmar should immediately end discrimination and other rights abuses against the Moken, sea nomads who are among the few remaining hunter-gatherer populations in Southeast Asia, Human Rights Watch said in a new report on 25 June.
Approximately 3,000 Moken live mostly on small boats within the Mergui archipelago along Myanmar's southern coast, while another 800 are settled in Thailand.
The 25-page report, "Stateless at Sea: The Moken of Burma and Thailand," describes in words and photographs serious violations of the rights of the Moken by state authorities – particularly the Myanmar navy – including extortion, bribery, arbitrary arrest, and confiscation of property. Human Rights Watch also examines tightening immigration and maritime conservation laws that threaten their freedom of movement and traditional lifestyle. Most Moken are stateless, making them extremely vulnerable to human rights abuse and depriving them of access to medical care, education, and employment opportunities.
"Far from the idyllic image that tourism promotes of the Moken people, these sea nomads face increasing restrictions and attacks at sea, and systematic discrimination on land," said Brad Adams, Asia director. "By effectively denying them citizenship, the Thai and Myanmar governments make the Moken easy targets for exploitation and other threats to their very existence."
The Mokenare listed as one of the 135 recognized "ethnic races" of Myanmar under the 1982 Citizenship Act, but the issuance of national ID cards to the Moken has been inconsistent, hindering their travel within Myanmar. The Myanmar government is required to provide national ID cards to all who are entitled; to ensure birth registration documents are issued to all Moken children; and to provide the Moken equal access to social welfare, education, health, and other services provided to other Myanmar citizens. The Moken have also suffered from violent attacks and seizure of property by the Myanmar navy.
In Thailand, the Moken's ability to pursue their traditional livelihoods is limited by marine conservation regulations, such as the ban on gathering sea products for trade and chopping trees to build or repair boats. Thai middlemen exploit Moken vulnerability in order to persuade them to undertake illegal and dangerous work, such as dynamite fishing. On land the Moken also face forced displacement, since they own no title to the traditional shore areas where they live for part of the year.
The Thai government should review all applications from Moken for citizenship and grant those with legitimate claims. The authorities should also end threats of forced resettlement of Moken populations, create a complaints mechanism that Moken can easily access when their rights are violated, and support access to culturally suitable education for Moken children and lawful work opportunities.
In recent years, more Moken have given up their nomadic ways and decided to reside permanently in Thailand and Myanmar. Both governments should act to protect and promote their rights, including providing a pathway to citizenship and protecting them from economic exploitation that threatens their way of life. They should ensure that the Moken, as people indigenous to the Mergui archipelago and the Andaman seacoast, are treated in accordance with the United Nations Declaration on the Rights of Indigenous Peoples.
"Myanmar and Thailand need to recognize and respect the rights of the Moken people to live as they always have," Adams said. "Protecting them from abuses, ensuring a path to citizenship, and providing access to basic services is best way forward for these indigenous and too often exploited people."