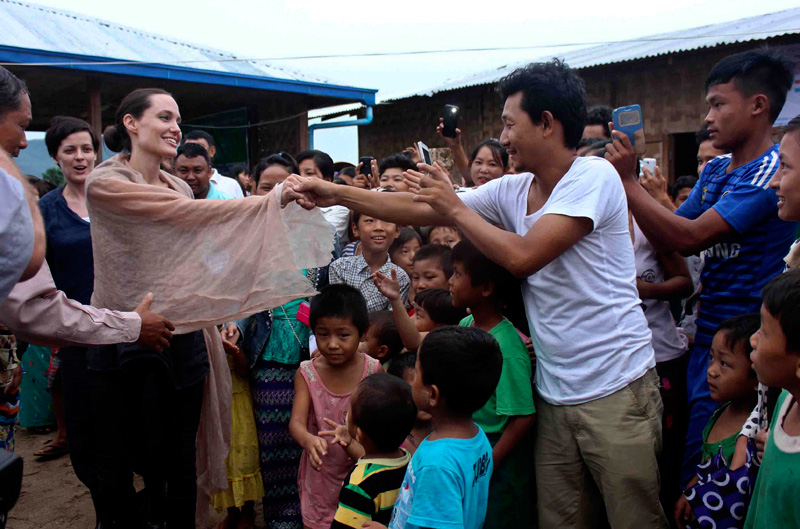 Actress Angelina Jolie, a special envoy for the UN High Commissioner for Refugees, met with Kachin war refugees in Myitkyina, Kachin State, on Thursday.
The meeting took place at the Jan Mai Kawng refugee camp in Myitkyina from 3 p.m. to 4 p.m. on 30 July, U Aung Myat, a priest in the refugee camp, told Mizzima.
"She and our committee did not have any special discussions," U Aung Myat told Mizzima. "In the camp, she met with people she wanted to. We did not accompany them. They said they wanted to talk freely with the refugees, so we, the security police, and media, did not accompany them. They met with just refugees.''
They met especially with the wife of refugee Lahtaw Brang Shawng and the wives of KIA soldiers who died in fighting, according to U Aung Myat. Lahtaw Brang Shawng from Jan Mai Kawng refugee camp was arrested by the Myanmar government after being accused of involvement in a bombplot and being a member of an illegal association.
U Aung Myat continued that the actress would visit Palana IDP camp in Myitkyina. He hoped that Jolie's visit would produce a change, said U Aung Myat.
"The caption on her shirt says 'Know Your Rights'. The Hollywood actressvisited here with the aim of promoting rights and she asked questions about human rights, so I hope a change will occur," said U Aung Myat.
After 6 p.m. on Thursday, she met with 12 female representatives from 10 groups working on women's rightsat the Palm Springs Hotel.
Kachin Women's Association official Daw Ja Seng Hkawn said that they told her about rape cases against Kachin women and the problems which women have faced because of war.
"She asked questions about the situation of women. She asked questions about what women have experienced and what difficulties women have encountered. We told her about rape cases against womenin the past and recent incidents. And we told her what we need. There is a lack of fairness and transparency. So we need them (fairness and transparency). We told her about the effects on women due to fighting," Daw Ja Seng Hkawn told Mizzima.   
UNHCR special envoy Jolie arrived in Myanmar on 29 July. On that day, she met with government officials including the President U Thein Sein in Nay Pyi Taw, but it is not known what was discussed.
Her four-day visit aims to provide help for those affected by conflict and the political situation in the country.