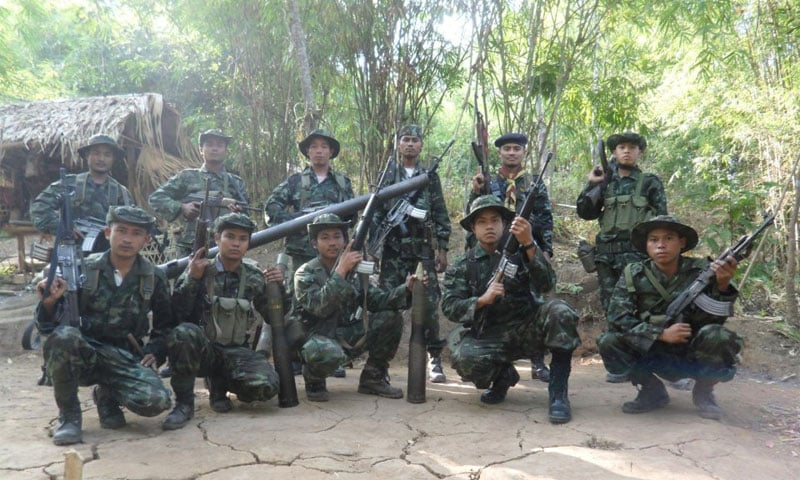 Myanmar's military has captured five people after a rare clash with insurgents in Rakhine state, state media said April 22, potentially complicating efforts to reach a nationwide ceasefire with numerous rebel groups.
The quasi-civilian government wants to declare an end to civil wars that have plagued ethnic minority border regions for decades. Last month it signed a draft peace accord which was hailed as a historic step forward.
But sporadic fighting has continued in northern regions near the Chinese border.
This latest conflict involved members of the Arakan Army (AA), which hails from the western state of Rakhine but has previously focused on fighting in the north.
State media reports of clashes since April 17 in Rakhine itself between the army and insurgents are believed to be the first time the rebels have fought troops in their home state.
Five men hiding in a forest were captured on April 19 by troops who uncovered guns, bullets and hand grenades nearby, according to an army statement, which referred to the group as "Rakhine insurgents".
The western state remains deeply troubled after unrelated deadly religious violence in 2012 between ethnic Rakhine Buddhists and Muslims, mainly from the Rohingya minority.
"Local people have told us that about 400 to 500 people from four villages are now fleeing from their places because of fighting," said Daw Nyo Aye, of the Sittwe-based Rakhine Women's Network, one of several organisations trying to help those who have fled.
AFP was unable to reach the Arakan Army for comment.
Observers said the five men were from AA, which was founded in 2010 and mainly battles the government's forces in the northern state of Kachin.
Heavy fighting between the government and Kachin rebels has displaced tens of thousands since a ceasefire collapsed in 2011.
Fighting is also raging in the Kokang region of the northern state of Shan.
But peace negotiators said the new fighting would not derail attempts to sign a nationwide ceasefire.
"I do not think the new clashes in Rakhine state would harm the peace process," Colonel Khun Okker, a spokesman for the ethnic armed groups' negotiating team, told AFP.
© AFP