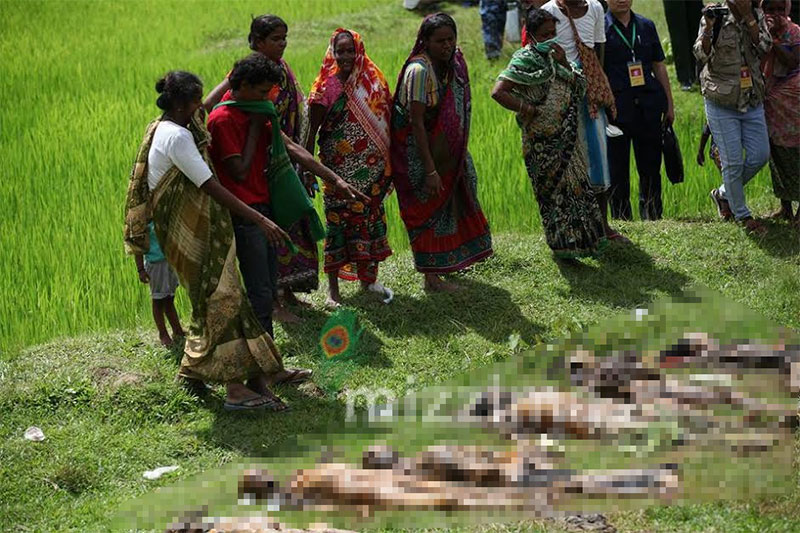 Rohingya terrorists on Wednesday denied the Myanmar army's allegations that they had massacred scores of Hindu villagers, whose bodies soldiers displayed to the press after exhuming them from mass graves in northern Rakhine state.
Major clashes between the army and the Muslim insurgents erupted last month, triggering a dire refugee crisis with nearly half a million Rohingya fleeing across the border to Bangladesh.
On Wednesday the army flew journalists to an area where the mass graves of 45 Hindu villagers, including many women and children, were discovered earlier this week.
The military has accused Rohingya terrorists of carrying out the massacre on August 25, the same day the group staged deadly raids on police posts that sparked the military backlash.
In its first official statement on the allegations, the Arakan Rohingya Salvation Army (ARSA) "categorically" denied that its members "perpetrated murder, sexual violence, or forcible recruitment" in the area on 25 August.
They called on the army to stop "victim-blaming," according to the statement, which was posted on the ARSA's Twitter account.
It used an apparent local name -- "Fakirabazar" -- for the Kha Maung Seik village tract where the mass graves were found, in the statement posted on Twitter Wednesday.
The decomposing skeletal bodies remained laid out in rows on a grassy field outside the village of Ye Baw Kyaw as distraught relatives wailed, according to AFP journalists at the scene.
Security officers are still searching for 48 missing Hindus who relatives fear are dead.
- "We begged for our lives" - 
Hindus who fled the area have told AFP that masked men stormed into their community that day and hacked victims to death with machetes before dumping them into freshly-dug pits.
Ni Maul, a Hindu leader who has helped authorities with the search, told media on the army-led press trip that they found the burial sites using testimony from eight Hindu women who were spared and brought to Bangladesh after they agreed to convert to Islam.
"They kept eight beautiful women alive to marry," he said.
Four Hindu women displaced in Bangladesh told AFP they were among the eight who escaped the massacre in the same area of Kha Maung Seik, with eight children in tow.
"We begged for our lives, asking they spare the women," 22-year-old Bina Sheel told AFP at a small village for Hindu refugees in the Bangladeshi border district of Cox's Bazar.
"They asked if we would marry them. We said yes, to save our lives."
All four women said they were taken to Rohingya Muslim camps inside Bangladesh by the attackers. Sheel said her captor urged her to convert to Islam before she was brought to the Hindu village by a local leader.
© AFP