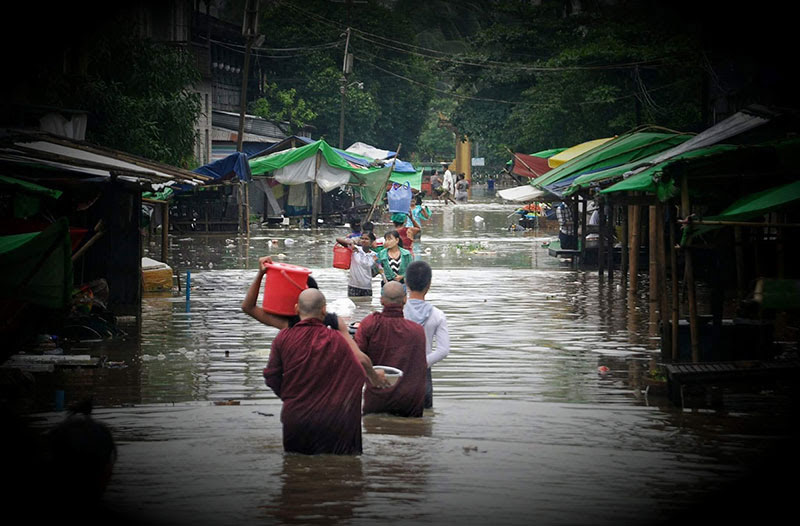 According to local residents, Bago city was flooded after heavy rain and there are about 4,000 flood victims in the city.
Floodwaters have forced thousands from their homes in southeast Myanmar, local police said Friday, as authorities and volunteers scrambled to provide food and aid to the victims.
Heavy monsoon rains have pounded the Bago Region, Karen State and Mon State in recent days and show no sign of abating, raising fears that the worst might be yet to come.
In the Bago Region, Kalayarni Ward, Kyuntharyar Ward, Zaiganaing South, Ottha Myothit Ward, Kyaukkyisu Ward and some low-lying areas are inundated with floodwater and 11 relief camps have reportedly been opened at monasteries for them.
Local resident Myo Nyunt from Zaiganaing North Ward said in criticism of local authorities, "The management of this flood by authorities concerned is not adequate for the people. They were much delayed in responding the flood. They should take responsibility if they feel responsible for this. They should at least admit their responsibility and beg pardon from the people."
The flood water started to enter low-lying areas in Bago on July 18 and local residents said that the water level crossed the danger level yesterday and then the flood water rose rapidly.
The danger level of Bago River is 880 cm and according to the observation made on July 26 at 12:30 p.m. the water level reached 919 cm, the local people said.
According to the The Global New Light Of Myanmar, Myanmar State Counsellor Aung San Suu Kyi said her government had freed up 200 million kyat ($140,000) to help those displaced and that rebuilding destroyed bridges would be a priority.
Additional reporting by AFP