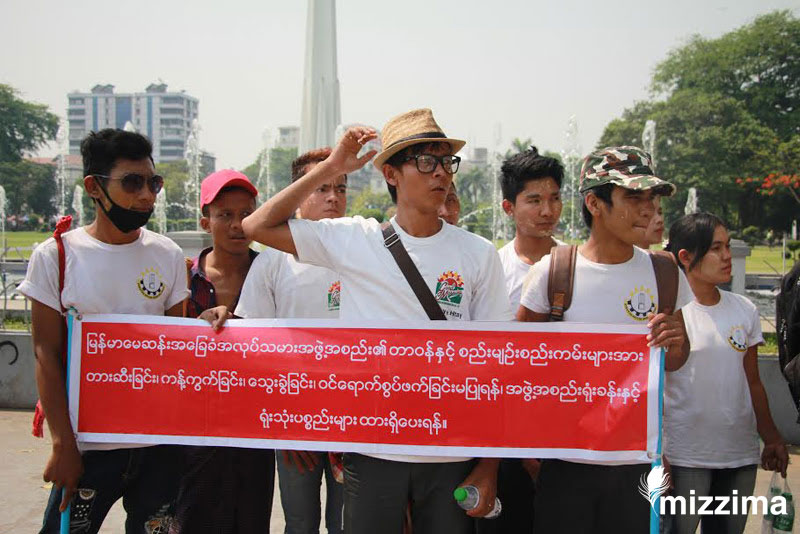 Some 200 workers from the Good Morning bread and cake factory in Yangon began a sit-in protest on Thursday in front of Maha Bandoola Square in the city centre, calling for improved labour rights and the reinstatement of nearly 200 workers who were recently fired.
The strikers said that the firm, based in the Hlaing Tharyar industrial site, had failed to abide by a verdict passed by Yangon Region Arbitration Court that addressed the grievances of the workers.
Worker Zaw Lin Khaing, a strike leader, said that the factory owner, Myanmar Mayson Industries Co, had violated the Labour Law by failing to coordinate with workers before it made 184 employees redundant on 8 March.
"The striking factory workers are now assembled en masse by the roadside," he said. "Since this government is elected by the people, either the local ministers or State Counsellor DawAung San Suu Kyi or President U Htin Kyaw should visit them to find out for themselves the conditions they endure. We are calling on them [government] to prosecute the law-breakers on our behalf."
Another striker, Myo Thant, said that the protesting factory workers would continue the sit-in strike until their demands were met.
"We are currently awaiting the decision of the Labour Council," he said. "We will continue this sit-in strike right through the Thingyan water festival. We want the government to know the difficulties we face, and the disruptions to our lives while we conduct this sit-in. We are surviving on donations from well-wishers, but what we want is for the government to intervene in the dispute."