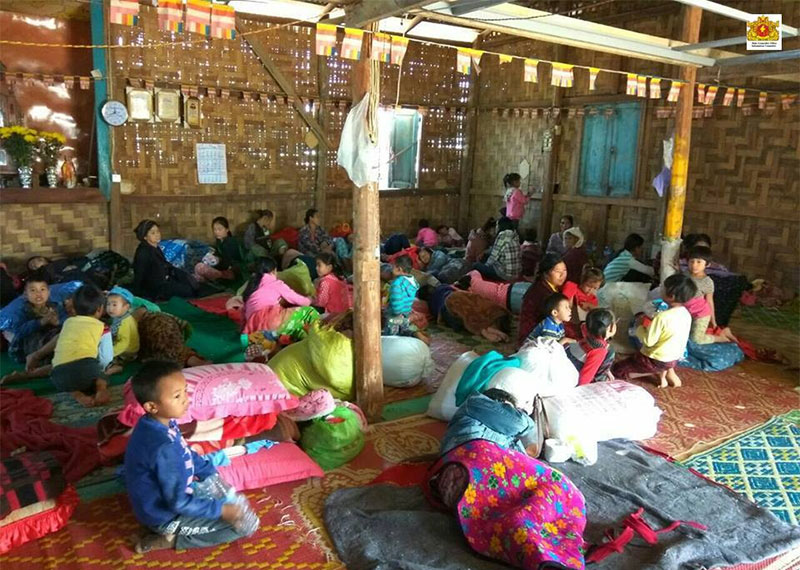 Armed clashes in Myanmar intensified on Monday morning, and a stray bullet struck a government building in Wanding, a border town in Southwest China's Yunnan Province, an official from the Chinese embassy in Myanmar confirmed with the Global Times on Monday. 
Pan Xuesong, chief of the Chinese embassy's press office in Myanmar, said that the corridor of the local taxation bureau in Wanding, Dai-Jingpo Autonomous Prefecture of Dehong, was damaged. No casualties were reported.  
Armed clashes continued in Muse, Myanmar's northern Shan state on Monday, against an alliance of three ethnic armed groups who fired upon the Phangsai police station using small and heavy weapons from a hill, according to a press release of the Information Committee of the State Counsellor's Office.  
The three armed groups are the Kachin Independence Army, Ta'ang National Liberation Army and Kokang's Myanmar National Democratic Alliance Army, the Xinhua News Agency reported on Monday.
China has lodged representations with Myanmar, after a Chinese citizen was hit by a stray bullet, a Foreign Ministry spokesman said on Monday. 
Global Times reporters on Monday saw tents that accommodate the Burmese at Wanding. Police secured the camp, with police, military and emergency vehicles scattered along the streets of Wanding.
"The port to Myanmar is deserted, which is usually crowded," a local driver told the Global Times, adding that local residents were hardly affected by the clashes.
Geng Shuang said China has taken measures to enhance border security in a bid to protect Chinese border residents. "We hope the parties in the conflict will exercise restraint and immediately halt military operations to end hostilities," Geng said. 
The conflict has forced thousands of Myanmar citizens living in Shan state to flee to border towns of China. China Radio International reported at least 3,000 people have fled to China.
Geng called on the parties to take concrete measures to restore peace on the China-Myanmar border area and avoid harming China's sovereignty as well as border residents.
The Wanding government has taken in those who have crossed the border and treated the injured in hospitals, according to a Chinese Military Ministry statement on Sunday.
Experts said that, for whatever reason, violence cannot resolve the issue and communication is the only option to restore peace in the country, according to Xinhua.
Courtesy Global Times