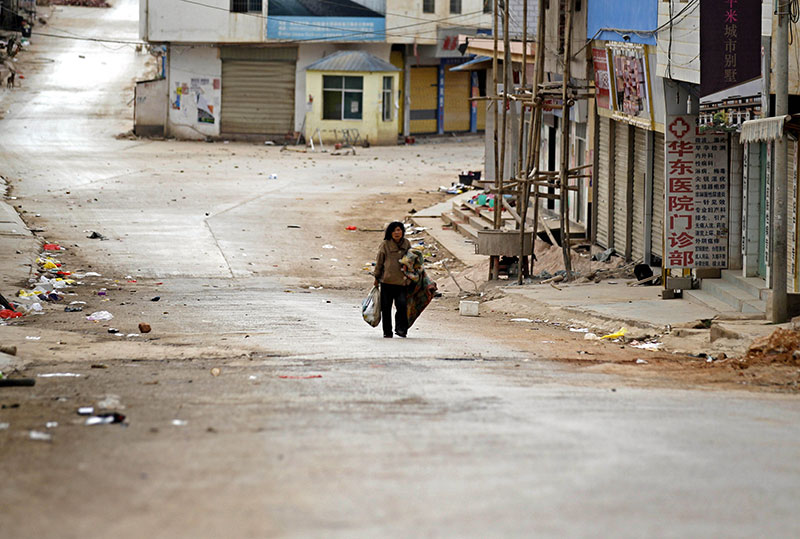 The escalation of a long-running conflict between Myanmar army and a Chinese-speaking ethnic armed group in Northern Shan State is affecting people on both sides of the border.
Fighting between Kokang rebels - the Myanmar Nationalities Democratic Alliance Army (MNDAA), and Myanmar troops in Laukkai, a region on Myanmar's border with China, has killed at least 30 people and caused new flows of refugees to flee across the border into China's Yunnan province.
Residents of Yunnan province, meanwhile, have shut themselves inside their homes at night and many local residents said that they heard heavy gunfire and felt tremors during the night and they can see bright flames.
Li Xingwei, who is the headmaster of a Kokang mission school, told Mizzima that he led more than 20 children fleeing into the town of Nansan in Yunnan. "We found an abandoned house to live in. It is a bit crowded and we are trying to find the rest of the kids."
"At present, tens of thousands of Myanmar refugees have been placed in several open squares in the town of Nansan, and the local government has set up refugee camps to accommodate them." Guo Lunfeng told Mizzima, who is a volunteer teacher in Kokang and also the member of an NGO for refugees.
"After the conflict, we organised aid action on social media, and we arranged a dozen cars to freely pick up refugees who are old, weak, and disabled on the main roads. Some local residents who had vacant houses provided them with temporary accommodation."
In addition, several local volunteer organisations and a Chinese insurance company also provided free food to refugees for several days, including instant noodles, rice pudding and mineral water.
Kokang people are an ethnic group of Myanmar. Most of them are descendants of Chinese speakers who migrated to what is now Shan State from the 17th century. Probably because of this reason, the voice of support for the  Kokang is not rare to see among Chinese people.
Nevertheless, some people think that the cause of the conflict is not so simple. U Min Zaw Oo, a political analyst in Yangon who advises a government peace commission, told The New York Times that he believed the rebel group currently had about 1,000 to 1,500 fighters and that it targeted casinos in Laukkai controlled by rivals in the Kokang community who are loyal to the Myanmar government.
The office of Aung San Suu Kyi said in a statement Monday evening that MNDAA had attacked a hotel, casinos, and police and army posts.
However, in a statement released by "Justice Kokang", which is an account on China's social media platform Weibo and which states it is, "The official account of MNDAA", the rebels denied that it was MNDAA that provoked the conflict. "Myanmar troops gathered and laid siege to Kokang from different directions since January, and they dropped at least dozens of shells a day, never stopped."
"Justice Kokang" constantly posted news about the war situation for several days and attracted the attention of many Chinese netizens. On Wednesday, the account published a name list showing donations to the MNDAA from dozens of Chinese netizens.
In contrast, the attitude of the Chinese government on this issue is clearly more cautious. "China is highly concerned about the military clashes recently in the Kokang region," said the spokesman of Chinese Ministry of Foreign Affairs.
"China urges all parties to cease fire immediately to prevent the escalation of conflict and restore normal order in the border areas as soon as possible."