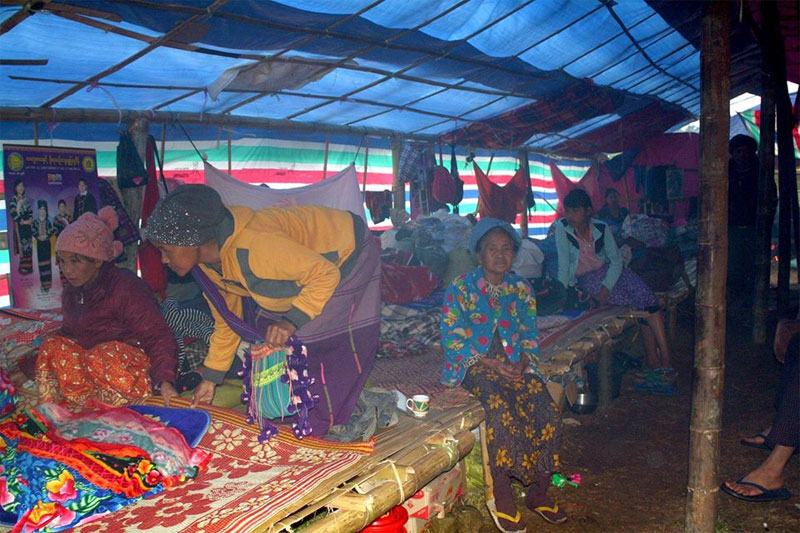 Although clashes between the Shan State Progress Party (SSPP) and government troops have subsided, about 2,000 displaced persons who fled from the conflict are reluctant to return to their homes a local resident from Mong Hsu who was providing assistance to the displaced people said.
Nan Kaung Hein said that after ceasefire talks held between the government and SSPP a number of ethnic Shan refugees, who had taken refuge in three refugee camps built in monasteries in Mong Hsu Township, had returned to their homes in the third week of December, but about 400 refugees from 90 households of Kone Neik and Nampar villages and about 1,600 refugees from Haipa refugee camp had not returned to their homes.
"The refugees from three camps in Mong Hsu have gone back to their homes but about 400 ethnic Lahu and Lisu refugees are still in the camps. And also about 1,600 refugees from Haipar refugee camp are still there. Some refugees and a novice from Haipar camp returned to their homes some days ago to ascertain the situation there but government troops questioned them asking who had ordered them to come back home saying don't come back until we call you, you can come back only after two months. These soldiers then herded them out of their village and fired their guns into the air. So they came back to Haipar camp in fear." Nan Kaung Hein told Mizzima. 
Clashes between the SSPP and government troops have ceased, but refugees are still in a wait and see mode, Nan Kaung Hein said.
NGOs are preparing to build shelters for refugees in Haipar camp for their long term stay.
She also told Mizzima that there would be difficulties for refugees in these camps in the long run.
"The difficulties for Haipar villagers will continue as they have been here for three months. They fled their homes at harvest time when their paddy fields were ripe and ready for harvesting. Government troops killed their cattle for meat and they dared not object. And all their savings and food have been exhausted. They will be in trouble for the whole of next year," Nan Kaung Hein added.
Over 10,000 refugees have fled their homes in Mong Hsu Township in southern Shan State. The warring two sides held talks in Yangon and Naypyitaw on 23-24 November and 7-8 December. After that, they agreed to move their troops stationed in the south of the Mong Hsu-Mong Naung highway to the north of the road.