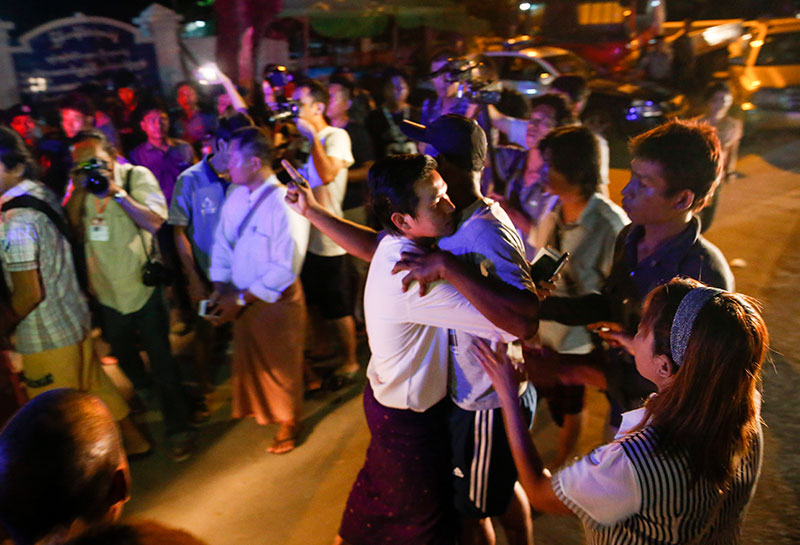 Police in Myanmar fired warning shots to break up scuffles between Buddhist nationalists and Muslims in Yangon in the early hours of Wednesday after a crowd purportedly went hunting for "illegal" Rohingya.
The incident comes as nationalists from Myanmar's Buddhist majority have become increasingly vocal in their opposition to the country's hard-pressed Muslim minority.In recent months, nationalists in Yangon have held protests, stopped Islamic religious ceremonies and most recently forced two schools to close temporarily over accusations they were illegally doubling up as mosques.
Police in Yangon said they were forced to fire in the air to break up the confrontation between dozens of hardliners, including several monks, and local Muslims that left at least one man injured.
The Yangon Region Legislative Assembly legislator from Mingalar Taungnyunt constituency Hla Htay told Mizzima that the disturbances which happened in Mingalar Taungnyunt Township on May 9 were caused by a money matter.
A group of people from the 'Myo Chit' (Patriotic Myanmar Monks Union) demanded on May 9 at about 10 p.m. to check flats at 122nd Street, Mingalar Taungnyunt alleging they were occupied by illegal aliens from Rakhine State.The Township Immigration Officer and Township Administrator helped them check the said flats.
It was found that all occupants in the flats on the 4th and 7th floors had all the required valid documents and the police told the group that they could not take action against the occupants. Not long after a disturbance occurred legislator Hla Htay added.
"When we investigated this incident, we found out that a person in this 'Myo Chit' group had a money dispute with one of the occupants in these flats. This person called people who would back him and came to the flat with the intention of causing a commotion while searching the flats. We are now investigating this case in detail. We shall release the facts when we know more," Hla Htay said.
Mingalar Taungnyunt Township Thabyay Kone Ward 125th street, 100-household headman Tun Naung said that some of the people living in the flats said they had been intimidated before the incident.
"We called Zaw Win who is nephew of head of household in Flat No. 105 and 107 to our office and legislator Hla Htay, Township Administrator and I asked him about the incident. And then he told us that the said person called him by phone a week or ten days ago and said that if he could not settle this money dispute he would call 'Ma Ba Tha' and 'Myo Chit' and come to him. This is what the nephew of head of household, Zaw Win, told us," Tun Naung told Mizzima.
Mizzima visited Mingalar Taungnyunt police station two times on May 10 but no one was available for comment.
(Additional reporting AFP)