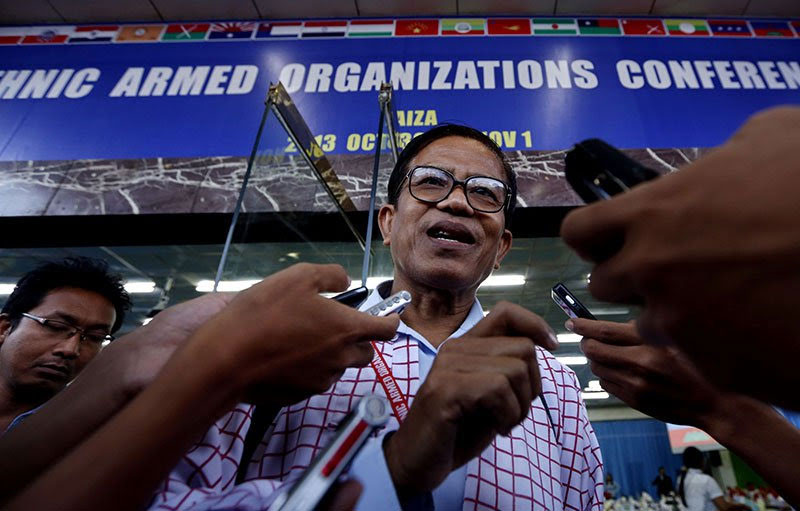 Ethnic leaders have warned that now is not the time to give up arms, in reaction to a speech calling for disarmament by the Myanmar Commander-in-Chief General Min Aung Hlaing.
The speech was made at the 21st Panglong Conference in Naypyidaw, which had a series of high-profile international guests including U.N. Secretary General Ban Ki-Moon.
General Min Aung Hlaing said in his opening speech that the armed struggle of ethnic groups was against democratic principles.
Ethnic leaders have voiced strong disagreement. Nai Han Tha, Vice Chairman of the New Mon State Party, argued that the current political situation was not yet stable enough to justify the disarmament of ethnic groups.
"As for ethnic armed organizations, this situation has not convinced us to believe that we don't need to continue the armed struggle," he said in an interview with Karen News.
Nai HanTha holds a key position in the ethnic armed organisation alliance, the United Nationalities Federal Council (UNFC).
Nai Han Thasaid it was ironic for the Myanmar Army to make calls on democratic principles when it itself did not have civilian oversight.
General N'Ban La, chairman of the UNFC also criticized the speech by General Min Aung Hlaing: "You'd like to ask why we, non-Burman ethnic nationals, have taken to armed struggle? It's because the promises and agreements made from 1947 haven't been completely implemented yet. We still do not have the democracy, national equality and self-determination which we have longed for."
Courtesy BNI