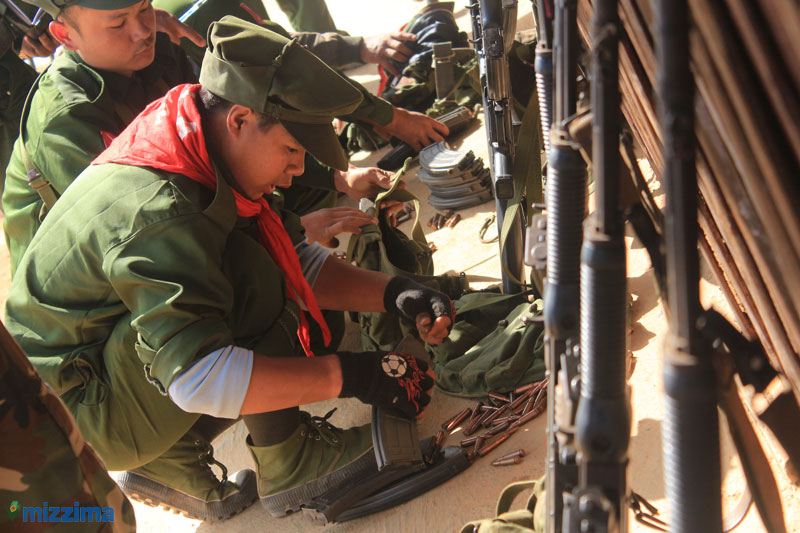 Government forces and the Ta'ang National Liberation Army (TNLA) reportedly clashed at four separate locations in northern Shan State on March 6.
TNLA spokesman Mai AikKyaw said that skirmishes begun on March 6 at 8:30 a.m. in Namhsan Township between Humang and Samngam villages, Mangton Township between Pankhar and Sailane villages, and in Kutkhai Township at upper Jayam village and at Mongyulay village.
"We had engagements with government forces. The government uses heavy weapons whenever they engage with us. We have not yet had any casualties up until now. In other places, the fighting lasted half an hour to about an hour but at Mongyulay we are still fighting," he told Mizzima.
He added that government troops reportedly suffered 8 killed in action at Humang village, Namhsam Township.
The government recently built up its forces by sending over 4,000 troops to northern Shan State's Kyaukme, Kutkai, Namhsam, Namtu, and Mongton townships where the TNLA operates.
Similar engagements occurred near Kongthar village in Namhsam Township on March 5. Mai AikKyaw said that they had had 10 clashes with government troops and fighting has occurred almost daily.
The TNLA issued a statement on March 1 saying the government's Light Infantry Divisions (LID) 11, 33, 66, 77, 88 and 99 were operating in their areas and the Myanmar military had built up its forces by bringing in LIDs 55, 101 and Military Operations Command (MOC) 2, 7 and 10.
The statement further says that the troop build-up and escalation of the offensive where TNLA forces operate is obstructing and undermining the peace process in the country.
United Nationalities Federal Council (UNFC) Vice-Chairman Nai Han Tha recently told Mizzima that the build-up of forces by the government showed the lack of will to resolve the conflict through peaceful negotiations.