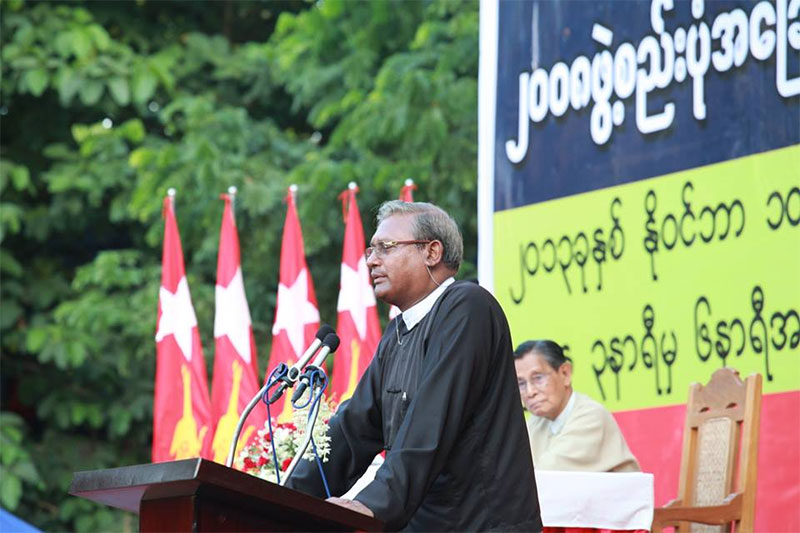 Myanmar's Mandalay regional police said on Monday that the gunman who shot dead a legal advisor of the ruling party is not a native resident in Mandalay, although he was initially identified as living in the city. 
U Ko Ni, legal advisor of Myanmar's ruling National League for Democracy (NLD) party, was gunned down at the Yangon international Airport on Sunday afternoon upon his arrival back from Indonesia. 
The gunman U Kyi Lin was originally identified as a Mandalay resident. 
But Mandalay region police chief Han Tun told the press that the authorities traced the address shown in the ID card which the gunman left when he was arrested, but found he was not actually residing at the address. 
Meanwhile, Mandalay Region Security and Border Affairs Minister Colonel Myo Min Aung told reporters at the parliament Monday that the gunman is further identified as an ex-prisoner from Mandalay prison who was sentenced to 27 years' jail term for stealing a Buddha statue, but was once released in 2014 under amnesty order after serving for 11 years' term. 
The prominent legal adviser of the NLD, who is also parliamentary lawyer, was gunned down at the airport Sunday 5:00 p.m. local time, upon his arrival back from a senior leadership program in Jakarta. 
The gunman also killed a taxi driver who had tried to capture him before he was arrested by the police and bystanders. 
U Ko Ni was shot in the head at a close distance at the airport's taxi stand near arrival terminal-1. 
The NLD has condemned the assassination of U Ko Ni, calling for prompt exposure of the mastermind behind the plot, according to its Monday announcement. 
It said the death of U Ko Ni is a irreparable loss to the party and State Counselor Aung San Suu Kyi, denouncing the assassination as a terrorist act that opposes the path of the NLD. 
It called for non-extreme acts in response to the incident and staying in peace to cope with it, while continuing implementation of the party's political path without losing sight.
Courtesy Global Times