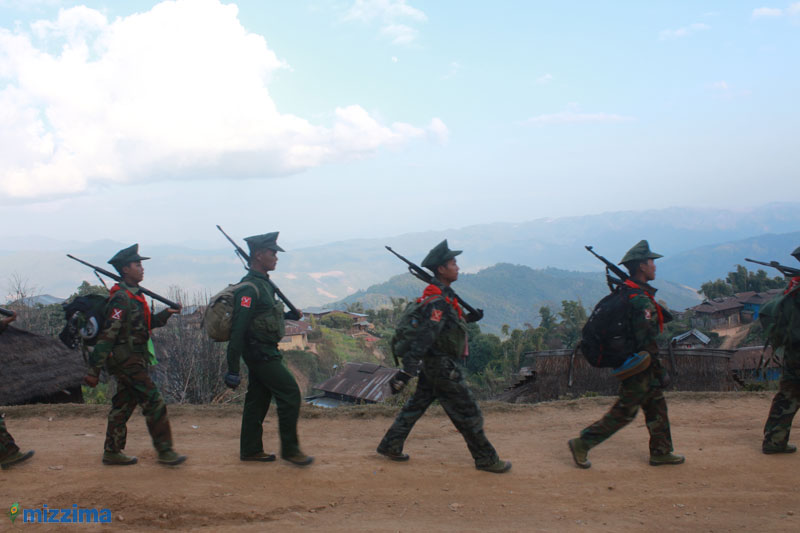 The Ta'ang National Liberation Army (TNLA) issued a statement on March 20 saying that the Myanmar Army had recently fired heavy weapons into a village injuring two people despite there being no recent clashes.
The TNLA Information Department In-charge Mai Aik Kyaw told Mizzima, "There are no clashes with the Myanmar Army at the moment but government troops fired heavy weapons into villages and two villagers were injured. Myanmar Army troops entered LweSar village and interrogated villagers door to door and bullied them forcing the villagers and local monk to flee. In total over 300 people fled."
The TNLA statement says over 300 army personnel from Light Infantry Division (LID) 77 entered Lwe Sar village, Kyaukme Township on March 20 forcing the 300 villagers to flee to Mai Lone village, 10 miles away though there were no reported clashes between TNLA and government troops.
TNLA troops are not stationed in Panyaykan village, Kwanhe village-tracts, Namsam Township but the Myanmar Army allegedly fired heavy weapons into the village on March 19 hitting a house and injuring YarHtam (50) and a student called Sandar (15).
TNLA said that 4 civilians had been injured by the army's heavy weapons fire this month. The Palaung Women's Organization said that 7 civilians had been injured in February and March so far. Executive Committee member of Palaung Women's Organization Lway Poe Kyein Ki told Mizzima that the injured villagers were from Kutkai, Namkham, and Tarmoenye Townships.
She further said that an old lady aged 60 was being treated at Namphatkar sub-township hospital, a girl aged 9 at Muse hospital and two more women were hospitalized at Lashio hospital. Two more people were injured by heavy weapon fire from government troops on March 19-20.
Lwe Poe Kyein Ki said that there were in total 1,500 war refugees at the moment with about 600 taking refuge at Namphatkar town, Kutkai Township, over 700 at Mongyulay village, and over 300 still hiding in the jungle after fleeing.
According to data collected by TNLA, 3,225 people fled their homes in 16 villages in Kutkai, Mongton, Namkham and Kyaukme Townships, some of them are taking refuge at relatives' homes and some are still hiding in the jungle while some have arrived at refugee camps.
Mai AikKyaw said that there had been no clashes between TNLA and government troops for four days but government troops still entered and fired heavy weapons into these villages. They had had 25 clashes and engagements with government troops in March, he said.