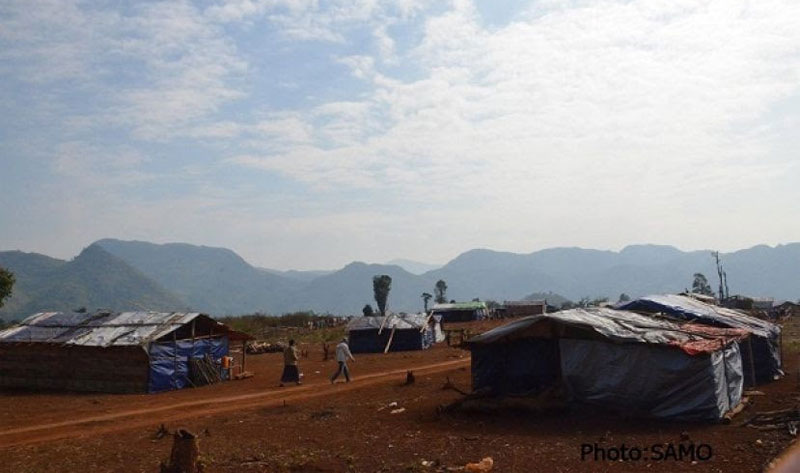 About 1,000 people are facing food shortages after having fled from their homes in Kutkai Township, northern Shan State where government troops and Ta'ang National Liberation Army (TNLA) are fighting.
Since 7 March, villagers fleeing the fighting have been arriving at the Aungthabyay prayer meeting hall in Namphatkar village.
Namphatkar Refugee Camp Committee Secretary Tar AikNyi told Mizzima, "More refugees have arrived today. The number of war refugees has reached 652 and we have received some rice, blankets and clothes for them. We can't accommodate all of them at the prayer meeting hall so they have to take refuge in nearby houses."
He added that they had received some rice, cooking oil, blankets and clothes donated by the Ta'ang Literature and Culture Organization, Chinese Literature and Culture Organization and Kachin Literature and Culture Organization.
Ta'ang Students and Youth Organization Joint General Secretary-2 Mai Myo Aung said that villagers from Lwesayam, Deinkari, Manmai and Jonenaw villages in Kutkai Township had to flee from their homes after government troops arrested some of them and burned down their houses.
"The number of war refugees in Mongyulay has reached over 300 and there are over 600 in Namphatkar village so the total number is over a 1,000. The local villagers are very concerned about the safety of their fellow villagers who have been arrested by government troops. Some of them managed to flee from the clutches of government troops. The whereabouts of remaining villagers are still not yet known. The troops have detained them somewhere. The houses and huts in the villages were burned down. And the scared villagers fled from their homes," he added.
He further said that government troops had burned down houses and huts in Lwekan and Lwesayam villages in Kutkai Township on March 12 and more villagers were fleeing.
According to reports, government troops invited villagers in Ngawngar village in Kutkai Township to a meeting on March 5 and took 14 villagers as their guides. They fought with TNLA troops near Ngawngar village and 10 of those villagers were able to flee but four remain with government troops.
Fighting was also reported between the TNLA and government troops near Loisar village, Kyaukme Township, northern Shan State on 12 March.
The Palaung State Liberation Front (PSLF)/TNLA issued a statement saying they objected to the escalation of the military offensive against them which targeted innocent villagers living in the conflict zone.
The state-run New Light of Myanmar reported on February 24 that the Myanmar Army is conducting a military operation in Kyaukme and Namhsam townships in northern Shan State to protect the lives and property of the people.