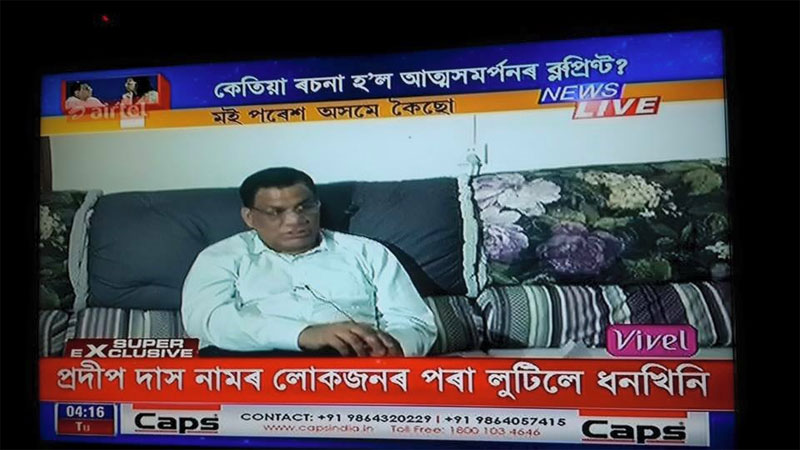 The military wing chief of the Indian separatist group, the United Liberation Front of Asom (ULFA) Paresh Barua has given a long interview to a TV channel in the country's northeastern state of Assam somewhere in a hotel in Hkamti Township in Sagaing Division.
The Newslive channel clearly mentioned in its multiple broadcasts of the interview that it was recorded in Hkmati Township.
"That raises the question about how a wanted terrorist in India can so freely move around in a town in Myanmar," said former Defence Intelligence Agency Major General Gaganjit Singh.
After being driven out of Bangladesh by the Hasina government which unleashed a fierce crackdown on northeast Indian rebel groups in 2009, Barua has been reportedly staying in and around Tenchong, a small Myanmar urban outback on the Sino-Myanmar border.
Indian intelligence has repeatedly said Barua has been in touch with Chinese intelligence agents based at Ruili, not far from Tenchong.
In 2011, another journalist from Assam interviewed Barua but that took him three months from the time he crossed over into Myanmar to the time he returned to publish the interview in the now-defunct 'Seven Sisters Post'.
Though the journalist was tight-lipped about where he interviewed Barua, he released pictures of jungles bases where the rebels were training. 
But the Newslive interview conducted by its staffer Chayamoni Bhuiyan seems to have been conducted in a small town hotel and the channel has claimed it was done in Hkamti .
Myanmar experts and surrendered rebels say Barua has close relations with some leaders of the Naga autonomous zone in Hkamti who are close to Myanmar Naga rebel leader S SKhaplang .
Barua's ULFA is part of the four-group rebel coalition ULNFSWEA .
But the interview in Hkmati has given rise to speculations that the reporter may have been used to convey feelers from Indian government to the rebel leader to bring him over to the Assam peace process.
An earlier effort to do that by India's Art of Living guru Sri Sri Ravishankar failed last year when Barua refused to join the peace process unless India agreed to discuss the issue of Assam's sovereignty.
Ravishankar is believed to be close to Indian Prime Minister Narendra Modi.
Indian intelligence last month suggested that Assam BJP leader HimantaBiswaSarma, who had established links with Paresh Barua in 2011, has been a fresh effort to connect to the rebel leader before the polls in the Assam state assembly.
Barua has been attacking the BJP's chief minister candidate in Assam, Sarbananda Sonowal and Congress chief Minister Tarun Gogoi, but carefully refrained from any attacks on Sarma.
Sarma is a former Congress minister who broke away from Gogoi and joined BJP last year.
The journalist who interviewed Barua in 2011 is a relative of Sarma while the Newslive channel that aired Barua's latest interview is owned by his wife.
Surprisingly, though although Barua spoke a lot about corruption in Assam in his Newslive interview, he did not mention Sarma who has been implicated in several large local scams like Saradha chit fund scam and Berger scam.
But while some BJP leaders may be trying to neutralise Barua in the rundown to the polls, Barua may be cosying up to India's ruling party just to ensure Delhi does not press Myanmar to find him.