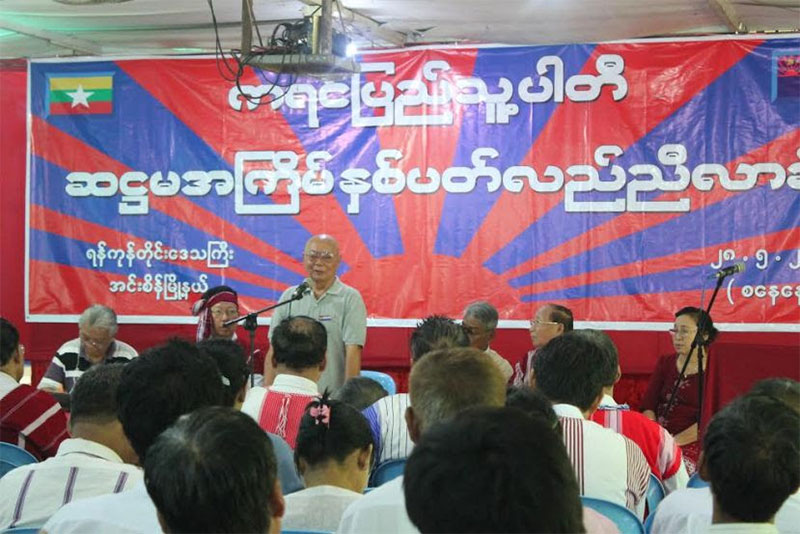 The Karen People's Party announced that policies decided at the last Karen National Union (KNU) meeting will be adhered to during its party's presentations at the Union Peace Conference (also called 21st Century Panglong Conference) scheduled to start next Wednesday.
"Briefly speaking, there are decisions set down at the last KNU meeting and papers submitted by the KUPC. We will incorporate them with our policy to submit during the peace conference," said Say Wah, general secretary of the KPP.
After winning seats in the 2015 General Election, six representatives from the KPP have been invited to attend the peace conference.
KPP General Secretary Saw Say Wah, KPP Karen State Hluttaw MP Saw J A Win Myint, and patron and central executive committee members Saw Jue Pali San Hla, Nant Khin Aye Oo, Mann Tun Tin, Saw Dickson Tun Linn will form the party delegation that will attend the conference.
Saw Thar Boe, from the Karen Environmental and Social Action Network, was proud that the KPP has been invited, but urged the party to tell the government not to allow resource extraction or energy projects in Karen State, unless clear guidelines that adhere to sustainable development are followed.
Saw Ka Pee, a Karen political affairs observer, said it's vital that the representatives are organized and well-versed on the topics that will be discussed during the conference.
"People who are attending the conference need to be thoroughly prepared in advance for the topics they are going to discuss," he said.
Organizers have announced that politics, security, economics, land, environment and social issues will be the centre of discussions when the conference convenes next week, but that no decisions will be made.
Courtesy BNI