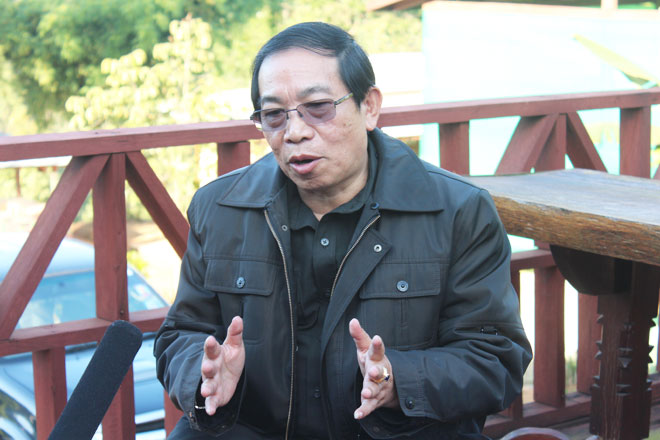 The meeting which took place from June 7th to 8th, was held mainly to discuss issues relating to the Panglong Agreement in 1947 and the proposed follow-up meeting that is set to take place next month, said Colonel Sai Hla, a spokesperson with the RCSS/SSA. The meeting was attended by Lieutenant General Yawd Serk Chairman of the RCSS, General N'Ban La Vice Chairman of the KIO as well as Sao Sai Htoo of the SSPP.
"As Kachin State, Shan State and Chin State that have joined the agreement in 1947, we should have a meeting before the 21st Century Panglong Conference takes place," Col. Sai Hla said.
"When we talk about this coming conference, we have to look at the 1947 Panglong Agreement," explained Col. Sai Hla. He added that in order to bring peace to the country, he believes that all groups should work together.
The special convention which is expected to be held sometime in July is being convened by Burma's State Counsellor and National League for Democracy (NLD) leader Aung San Suu Kyi. This will be a follow-up to a meeting convened by her father in 1947 that was attended by representatives from the Shan, Chin and Kachin communities.
The agreement reached at Panglong in 1947, stipulated a significant level of autonomy for Burma's ethnic groups in exchange for their decision to support Aung San's bid for independence from Britain. Aung San, was assassinated just months after the agreement was reached, his successor U Nu, did little to implement the agreement before he was overthrown by General Ne Win in 1962. The subsequent military regimes that ruled Burma also disregarded the commitments made by General Aung San at Panglong.
On June 3, Dr Tin Myo Win, who is the chair of the 21st Century Panglong Conference Preparatory Committee (21 CPCPC), met with the Delegation for Political Negotiation (DPN) from the United Nationalities Federal Council (UNFC) in Chiang Mai to discuss the progress of ongoing negotiations between the government, the military and ethnic armed organizations.
The UNFC, an organization comprising of non-state ethnic armed groups who did not sign last year's Nationwide Ceasefire Agreement (NCA) with Thein Sein's government includes both the KIO and SSPP/SSA.
Courtesy BNI