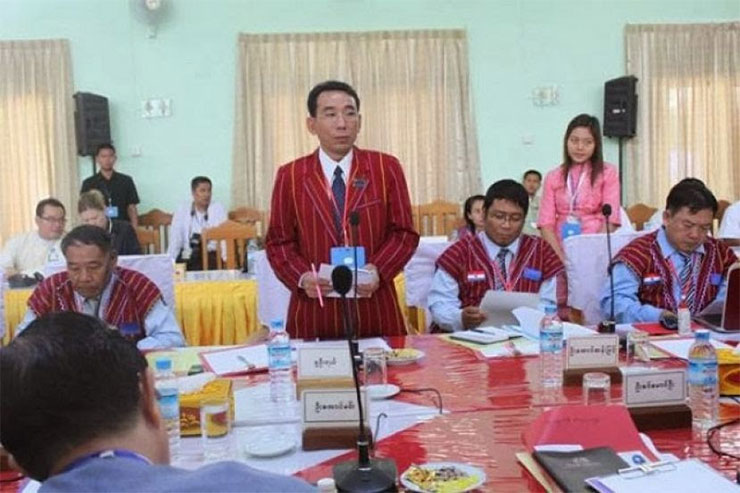 The Karenni National Progressive Party (KNPP) will discuss with Myanmar's government how all ethnic armed organisations (EAOs) can be included in the nationwide ceasefire and peace process, a senior KNPP official told Shan Herald.
KNPP Secretary (2) U Shwe Myo Thant said that the KNPP, had a meeting at its headquarters with top-ranking leaders on the subject of future peace talks with the new government. At the meeting it was decided that the KNPP would continue to advocate for an all-inclusive peace process.
He said: "The policy hasn't changed. We will continue to cooperate with the UNFC [United Nationalities Federal Council], which is a coalition of ethnic armed groups. We have decided to sign the nationwide ceasefire agreement only when everyone is included."
During the meeting held at the KNPP's headquarters on the Thai-Myanmar border, KhuOoReh the KNPP's Vice Chairman and Commander-in-Chief Gen Bee Htoo were selected to lead the negotiations with the government.
Under the leadership of the State Counsellor Daw Aung San Suu Kyi, the Myanmar government is planning on holding a 21st Century Panglong Conference. The government's Peace Committee plans to meet with ethnic armed groups that still have not signed the nationwide ceasefire agreement.
Only eight ethnic armed groups signed the nationwide ceasefire agreement with the previous Thein Sein administration. A number of other armed groups have refused to sign it citing the government's failure to include other groups.
The Commander-in-Chief of the Myanmar Forces Snr Gen Min Aung Hlaing has said the Myanmar Nationalities Democratic Alliance Army (MNDAA), the Arakan Army (AA), and the Ta'ang National Liberation Army/ Palaung State Liberation Front (TNLA/PSLF) need to disarm first before beginning peace talks.
Courtesy BNI