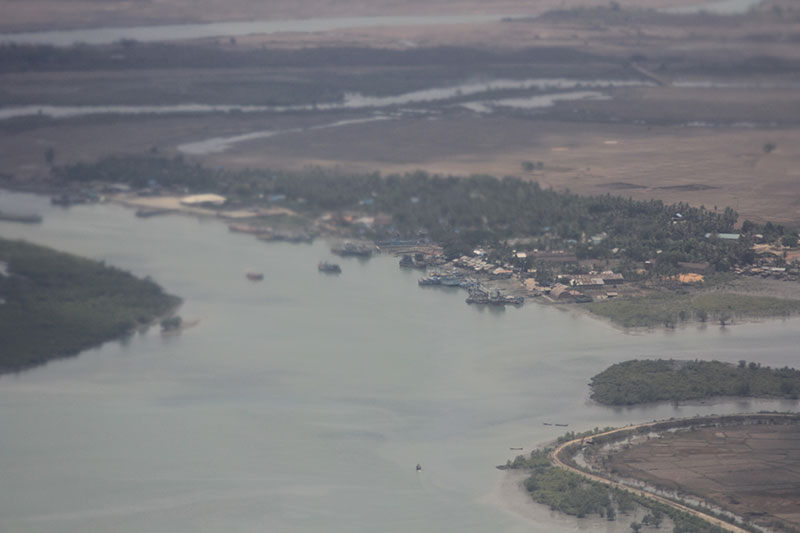 Kyaukpyu residents demanded that Arakan State government ministers help reduce the suffering caused by the Shwe Gas Project pipeline being built by the China National Petroleum Company (CNPC) and Myanmar Oil and Gas Enterprise. (MOGE).
The demands were made at a meeting between three Arakan State government ministers, community elders and local residents held in Kyaukpyu at No (3) Basic Education High School's Sanakuu Hall on 14 May.
At the meeting U Tun Kyi, a negotiator from Kyaukpyu Rural Development Association said: "The Shwe Gas project [pipeline] has caused suffering to local farmers which has not been resolved up until now. Though the [Kyaukpyu Rural Development] Association issued a statement calling on both sides to negotiate in order to prevent the problem from escalating negotiations have not yet taken place. When we went to the CNPC office to give them our statement they refused to accept it. [The government] needs to solve the appalling conduct of the companies investing [in the Shwe Gas Project]."
U Kyaw Lwin, the Arakan State Agriculture, Livestock Breeding, and Mining Minister said that the Arakan State ministers had come to the meeting to listen to the public's opinions and he urged them to criticise and discuss regional development issues constructively.
About 200 people attended the meeting.
The Arakan State ministers who attended the meeting were: U Kyaw Lwin, the Agriculture, Livestock Breeding, and Mining Minister; U Aung KyawZan, the Electric Power, Industry, Roads and Communication Minister; and Dr Chan Thar, the Immigration Minister.
Courtesy BNI