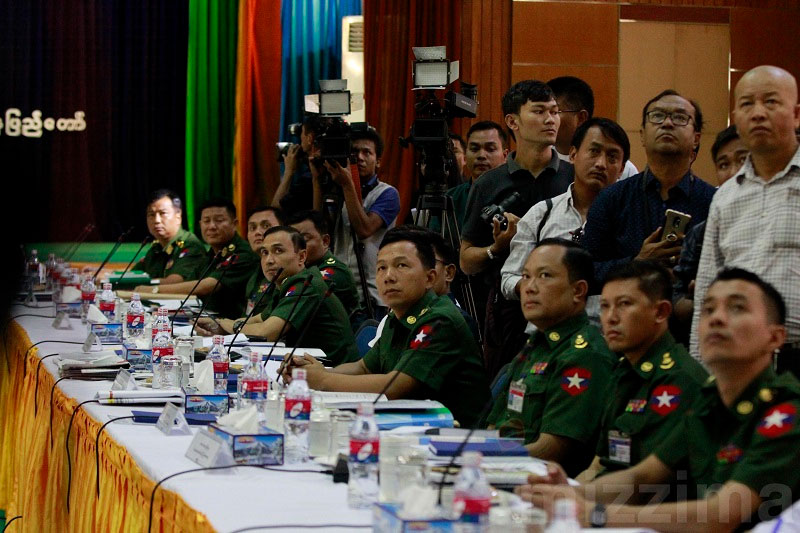 Maj. Gen. Aunt Ye Win from the Tatmadaw (Defence Services) True News Information Committee urged media to control and refrain from using unfriendly words such as 'military' or 'government troops' in referring to the Tatmadaw in their news reports in some media.
He was speaking at the Forum for Media Development held at the Information Ministry Office, Nay Pyi Taw and attended by media organizations and Myanmar Press Council this week.
"I wish the media use the word correctly in referring to the Tatmadaw. I mean call Tatmadaw as Tatmadaw. And at the same time I don't want the media using the word Tatmadaw in referring to other non-Tatmadaw organizations," Maj. Gen. Aung Ye Win said.
Maj. Aung Ye Win, Director of Directorate of Public Relations and Psychological Warfare, said that he wished the media controltheir fellow media in using the word 'Tatmadaw' in referring to ethnic armed forces and organizations which are designated as insurgents.
Moreover Tatmadaw True News Information Committee issued a news release dated July 26 regarding the use of military ranks.
"Military ranks which are entitled only to military personnel of the Tatmadaw (army, navy, air force) are not to be used in referring to personnel who are not concerned with the Tatmadaw in news reports," the news release issued by Tatmadaw True News Information Committee says.
This news release was issued after news reports use title 'Major' in referring to the economic in-charge of Lawayang People's Militia who was killed in an explosion that occurred in Momauk, Bamho District, Kachin State on July 22.
Maj. Gen. Aung Ye Win said at the forum, "Apart from military personnel from the Tatmadaw, no one is entitled to use these military ranks according to our rules and regulations."
This forum was attended by Information Minister Dr. PeMyint, Defence Minister Maj. Gen. Myint Nwe, Tatmadaw True News Information Committee, Myanmar Press Council and responsible persons from the Myanmar Journalists Network.