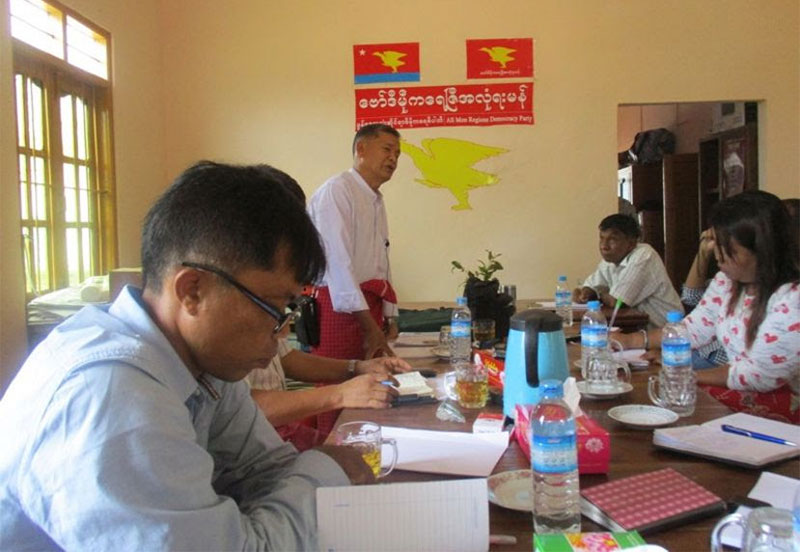 The New Mon State Party (NMSP), the predominant ethnic Mon resistance group, has been urged to release an official statement naming the All Mon Regions Democracy Party (AMDP) as the main political party working on behalf of Mon people, according to the AMDP.
The appeal was made at a press conference on Monday held at party headquarters in Mawlamyine, the capital of Mon State, and led by NaiKyanYit of the party's central executive committee, Joint-secretary (1) Nai San Tin and Joint-secretary (2) Nai Than Shwe.
We have not yet received the [recognition] letter that we asked for. They [NMSP] already held a press conference but they still have not recognized us. They have never given us this acknowledgement in the past, so we cannot move forward until they issue the statement recognizing our party," said NaiKyanYit.
Mon State has two major ethnic Mon political parties, the Mon National Party and the AMDP. Of the two, the NMSP has traditionally allied with the MNP while the AMDP describes its activities as closely aligned with public priorities.
The announcement follows a meeting between the NMSP and AMDP on July 8 intended to secure AMDP cooperation in the lead up to NMSP's Mon National Conference, and for the AMDP to seek formal recognition from the resistance group.
At a press conference on July 12, Nai Win Hla, the head of NMSP's Home Affairs Department, said the NMSP already extended this acknowledgement to the political party.
"We accepted what the [AMDP] has already achieved [for Mon people]. This acknowledgement is for them to know. If it's primarily for the public to know, we already made a public announcement as well. Regarding this [acknowledgment], we already submitted our letter to [the AMDP]."
According to the NMSP, arrangements have been made for 40 Mon political party members to attend their national conference next month, but AMDP representatives will only decide to join after an invitation is received, said Nai San Tin.
Nai Win Hla added that AMDP's progress would be reported regularly to NMSP's central executive committee and outcomes would be shared during press conferences.
Courtesy BNI